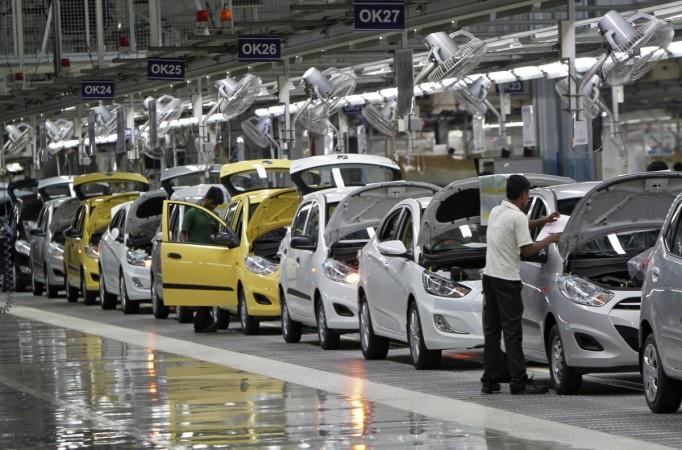 The exports of passenger vehicles (PVs) in India in the Financial Year (FY) 2016-2017 have witnessed a rise of 16.2 percent with exports of 758,830 units of passenger vehicles as against 653,053 units in the Financial Year 2015-16.
South Korean automaker Hyundai Motor continues to hold the reigns as the largest exporter of passenger vehicles in the FY 2016-17 with exports of 167,120 units. Hyundai witnessed a growth of about 3 percent during this period as against 162,221 units exported from India in the FY 2015-16. According to the data released by Society of Indian Automobile Manufacturers (SIAM), Hyundai's SUV Creta, the Grand i10 hatchback and compact sedan, Xcent topped its list of top three exports.
The second position in the list was held by Ford India with exports of 158,469 units during the last FY as against 110,840 units in the previous. Ford made it to the second spot on top beating Nissan and Maruti Suzuki. Maruti Suzuki, the country's largest carmaker, which was in third position in the last FY, is in the same position. The export of Maruti Suzuki declined by 1 percent in FY 2016-17 as the company exported only 122,039 units during this period.
Nissan settled for fourth position with exports of 1.09 lakh units in the FY 2016-17 as opposed to 1.11 lakh a year ago. Volkswagen India featured in the fifth slot with a growth of 14.3 percent and the company exported 86,852 units in the last FY as against 75,989 units in the FY 2015-16.
In sixth position, General Motors witnessed a 91 percent growth in exports in the FY 2016-2017. GM exports in the last FY stood at 70,969 units when compared to 37,082 units during the FY 2015-16. Toyota Kirloskar Motor (TKM) retained its seventh position, although this was accompanied by low-growth of 14 percent. The company exported 12,748 units during the FY 2016-17 as against 14,786 units in the FY 2015-16.
The biggest gainer in the last financial year is the French carmaker Renault having recorded manifold growth during this period. Renault also marked its entry into the top 10 PV exporters' list in the FY 2016-2017 and settled for eighth position. The company had exported only 144 units in the FY 2015-16 but jumped to 10,641 units in the fiscal year. Rounding off the list of top 10 PV exporters were Mahindra and Honda Cars, in ninth and tenth positions, respectively.
| | | | |
| --- | --- | --- | --- |
| 1 | Hyundai | 167120 | 3% |
| 2 | Ford | 158469 | 43% |
| 3 | Maruti Suzuki | 122039 | -1% |
| 4 | Nissan | 109459 | -2% |
| 5 | Volkswagen | 86852 | 14.3% |
| 6 | General Motors | 70969 | 91% |
| 7 | Toyota Kirloskar | 12748 | -14% |
| 8 | Renault | 10641 | 7290% |
| 9 | Mahindra & Mahindra | 10173 | 43% |
| 10 | Honda Cars | 5824 | 2% |