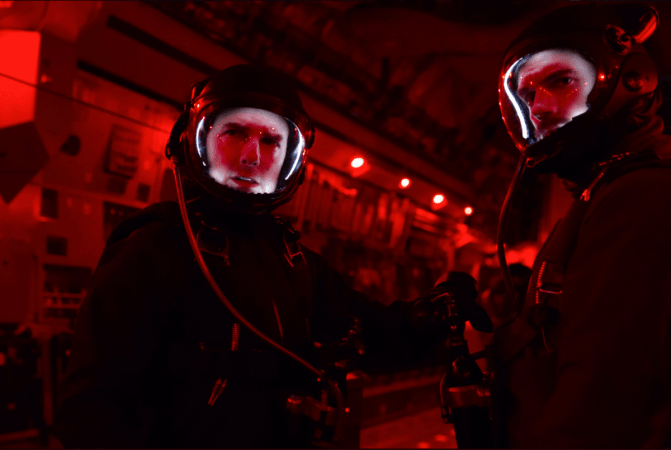 "Is there anything Tom Cruise cannot do?" asked Twitter soon after Tom Cruise shared the video of a death-defying stunt from his upcoming movie, Mission: Impossible- Fallout. Although director Christopher McQuarrie had once teased that the stunts in MI6 would top every other stunt Cruise has performed in the Mission: Impossible franchise, no one thought it would escalate to this level.
In the new behind-the-scenes stunt video, the 55-year-old actor was seen taking a leap to perform high altitude low open (HALO) jump. The video shows Cruise, director (and enabler) Christopher McQuarrie, and producer Jake Myers giving fans a rundown on how the whole stunt was brought to life.
They explained that a giant wind machine was built just for rehearsals and flight permissions from the U.A.E. were obtained. The team had to breathe pure oxygen for a few moments before the jump to combat altitude sickness and had a narrow window of 3 minutes to shoot, just after sunset.
The video took no time to become the Twitter's topic of discussion and fans expressed their awe over the nail-biting stunt sequence. "I don't think any other actor in the world would consider this, let alone do it!" commented a user. "Man...that is insane...i don' t even remember if ever #007 movie dare pull the same thing," added another user.
"If this is not the definition of awesome, I don't know what is!" said another fan.
Never expected that Tom Cruise would do this kind of stunts himself!! Sky diving?! Damn, now I also got to do it in spite of my fear of heights...

— Goncalo Sousa (@goncalo_sousa) June 3, 2018
All of us : Tom,these stunts look soo dangerous , please try using stunt double! Tom : pic.twitter.com/MJ5j9XzKGb

— Mohit Gadam (@mohitgadam10) June 3, 2018
All I can say is wow tom I've always been facinated with halo, haho jumps doing all those jumps just to get ready for the one, you always go to work @TomCruise this the most amazing, and dangerous stunt yet.

— Adam Knochelmann (@AdamKnochelmann) June 3, 2018
I'm convinced Tom Cruise is a day-walking vampire. He could play the same character in a reboot of Risky Business.

— parker (@pt) June 4, 2018
There are a host of things about @TomCruise that I don't like, but I can never question his desire to be the ultimate showman. Respect to you, sir.

— Zik. (@ItsMeZikZikZik) June 3, 2018
Check out the crazy video here: