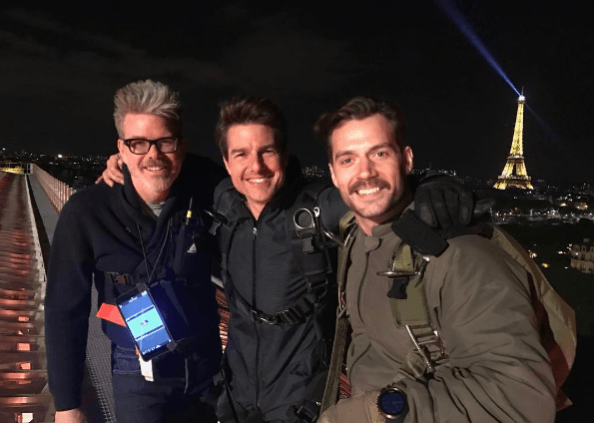 The team of Mission: Impossible is currently filming MI6 in London. The action-packed franchise is known for dangerous stunt scenes, the cast and crew were in UK recently for shooting a stunt sequence when lead actor Tom Cruise injured himself.
Cruise is known for performing stunt sequences himself, rather than depending on a body double. While performing one such sequence for the sixth movie, the actor met with an accident and has injured himself badly.
Also Read: Mission: Impossible 6 v Justice League: Henry Cavill caught between MI6 and DCEU
The accident has been recorded on camera and TMZ shared the video to show the intensity of the injury. In the clipping, the 55-year-old The Mummy actor attempted to take a leap from a rigging to a building. Cruise miscalculated his jump and fell short of the landing. This resulted in the actor hitting torso against the edge of the building. The hit was pretty bad.
According to the video, the actor had a harness tied to his back. With the help of that, he was lured to safety and the crew immediately rushed to check upon the Top Gun star. TMZ reports that the extent of his injuries is still unknown.
If his injuries are bad, the filming will be put on hold until the actor recovers. This will delay the production process. Whereas for Cruise, this incident has just added to a long list of accidents he has survived in an effort to give authentic performances.
Makers of Mission: Impossible 6 have time and again teased that the movie will feature stunts more exciting than the previous ones. It is expected that Cruise will leave viewers on the edge of the seats with this Mission: Impossible sequel.
"I will say after the Burj [Khalifa] we thought it was going to be impossible to top that stunt, and then Tom did the A400M for the plane. What Tom is doing in this movie I believe will top anything that's come before. It is absolutely unbelievable—he's been training for a year. It is going to be, I believe, the most impressive and unbelievable thing that Tom Cruise has done in a movie, and he has been working on it since right after Rogue Nation came out. It's gonna be mind-blowing," producer David Ellison told Collider in April.
Mission: Impossible 6 is directed by Christopher McQuarrie. It also stars Superman actor Henry Cavill in a prominent role. MI6 is scheduled to release next June.
Check out the video here: