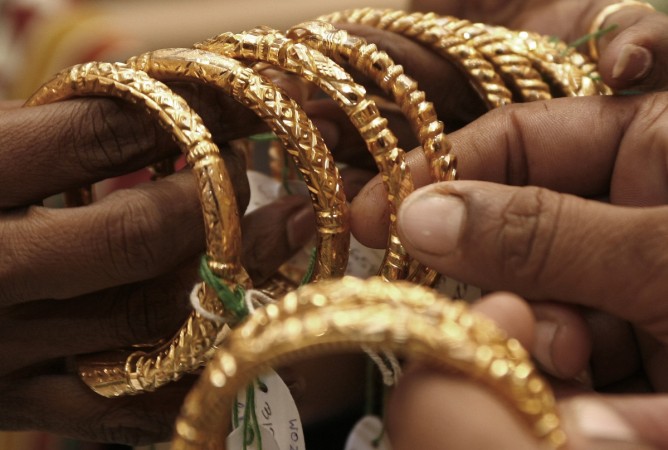 Share prices of gold companies such as Titan, PC Jeweller, Gitanjali Gems and Tribhovandas Bhimji Zaveri (TBZ) closed with either gains or losses after the Finance Bills 2017 containing the provisions of Budget 2017-18 was passed with amendments. The Narendra Modi government has capped cash transactions at Rs 2 lakh and cash jewellery purchases exceeding Rs 2 lakh will attract a levy of one percent tax at source.
The provisions will be effective from April 1, 2017.
Titan closed 2.12 percent higher at Rs 455, PC Jeweller ended 3.12 percent lower at Rs 405, TBZ was down 0.54 percent, while Gitanjali Gems ended flat at Rs 67. Titan sells jewellery under the brand name Tanishq.
The limit on cash transactions has limited downside, while demonetisation has come as a boon to these companies, with most analysts feeling that there will be a big shift in business from unorganised players.
On Thursday, gold prices closed Rs 350 lower at Rs 29,300 per 10 gram.
There has been an uptick in gold purchases, as is evident from the sharp rise in imports of the yellow metal last month.
Gold imports rose 147 percent to $$3.48 billion from $1.40 billion in February 2016. In the previous two months, gold imports had fallen 29.94 percent (January 2017) and 48.49 percent (December 2016) after the demonetisation-induced spike of 23.24 percent in November 2016.
The demand for gold jewellery in India dropped to a record low of 662 tonnes in calendar year (CY) 2016 due to demonetisation, high prices and protests by traders in the initial months. The fall was 27 percent, while in China, the drop in gold jewellery demand was 17 percent, according to the latest report released by the World Gold Council (WGC).
The Sensex closed 164 points higher at 29,332, led by Tata Motors, GAIL (India), NTPC and Wipro. The NSE Nifty ended 56 points higher at 9,086.