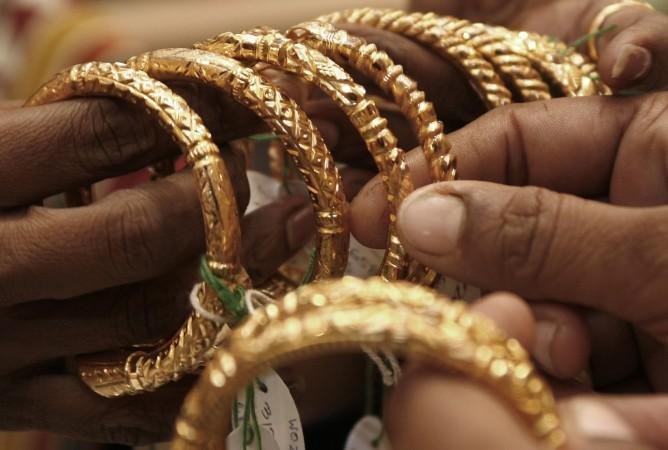 Gold demand may have remained subdued in the first quarter of the current financial year due to high prices and jewellers' strike that extended into April, but the remaining period, especially the second half of 2016-17, is likely to see a boom in business for various reasons.
A long wedding season, coupled with a good monsoon and salary hike for government employees in accordance with the proposals of the 7th Central Pay Commission augur well for companies such as Titan and PC Jeweller (PCJ), according to a note by brokerage ICICI Securities.
"Ahead, apart from macro benefits such as rollouts of the 7th Pay Commission and normal monsoon, we believe these companies will benefit from 50 percent YoY higher number of wedding days between October 2016 and June 2017, stimulus to revenues and margins due to higher gold prices, and favourable base," analysts Anand Mour and Aniruddha Joshi said in their note.
The Central government has implemented the pay panel's recommendations in part, by accepting the salary hike component and releasing the arrears for seven months in one go, while a decision on the quantum of hike in allowances is pending. The outgo on account of salary component itself has been estimated at Rs. 34,600 crore.
The analysts said that besides the above-listed positive factors, the shift from the unorganised to organised sector will also boost revenues for jewellery makers.
"We expect Titan as well as PCJ to benefit from the shift from unorganised to organised jewellery retailing. Launches of new designs and aggressive network expansion will sustain the growth tempo," they wrote.
Both the companies had reported a modest increase in revenues and profit for the first quarter (Q1) ended June 2016.
Titan's jewellery division Tanishq posted 3.2 percent increase in sales on year-on-year (YoY) basis to Rs. 2,138.32 crore in Q1 from Rs. 2,072.91 crore. " Retail sales in the first quarter were adversely impacted by fewer wedding dates and a significant impact on revenues in the jewellery industry due to high gold prices," the Tata Group company said in a statement after declaring Q1 results.
PC Jeweller sales rose 10.18 percent to Rs. 1,664.45 crore (from Rs. 1,510.65 crore in the June 2015 quarter). The company reported net profit of Rs. 106.59 crore, up 31.15 percent, YoY.
For Titan, which is also into other segments such as watches and other lifestyle products, net profit saw a 16.3 percent drop to Rs. 126.69 crore, YoY. The company attributed the fall to provision made on account of voluntary retirement scheme.
The future appears bright for the jewellery industry and these two companies are expected to benefit a lot, reflecting in a likely spurt in their share prices.
Titan shares ended 0.76 percent higher at Rs. 401.85 apiece on the BSE on Friday, while PC Jeweller closed 2.11 percent higher at Rs. 238.30.
Other listed gold companies include Tribhovandas Zaveri (TBZ) and Gitanjali Gems. TBZ shares closed at Rs. 68.15 apiece, up 2.48 percent, while Gitanjali Gems gained 2.71 percent to end at Rs. 45.40 on the BSE on Friday.
Key observations of Q1 results by ICICI Securities:

Modest growth reported by jewellery companies in Q1FY17, while gold import declined and unorganised jewellers' sentiment took a beating.

While gold import data shows decline, again, it is not reflective of gold demand trend as household gold supply increased, as stated by managements of jewellery companies on conference calls.

Gold is available in the market at discount to MCX prices. While the discount has narrowed from Rs2,000/10gm in Q4FY16 to Rs250/10gm currently, it clearly underlines the flow of non-duty paid gold in the market.

Spurt in gold prices leading to consumers postponing jewellery purchase, in turn jewellers increasing focus on studded jewellery.

Average gold prices were up 10%, YoY in Q1FY17, highest in the past 14 quarters.

The share of diamond jewellery was higher for PCJ as well as TBZ, which has helped drive the EBIT margins upwards. PCJ generally has activation on studded jewellery in March. However, as the industry was closed in Mar'16, PCJ postponed its activation of diamond jewellery to Apr'16.

Titan started its activation on studded jewellery in Jul'16 (compared to Jun'15 last year), the revenue share of studded jewellery has dropped, YoY.

Jewellers expect demand for jewellery to step up from Sep'16 with the onset of wedding and festival season.

Though there will be overhang on the jewellery sector due to uncertainty about the expected GST rate, we believe the overall tax incidence may not increase ahead. Currently, jewellery attracts 10% customs duty, 1% excise duty and ~1% VAT. Even if there is any marginal increase in tax incidence, the shift from unorganised sector to organised sector will be faster post rollout of GST.

As the money flow (on implementation of the 7th CPC recommendations) in the hands of consumers coincides with beginning of festive season in India, we expect healthy demand for products such as jewellery, consumer durables, premium FMCGs.