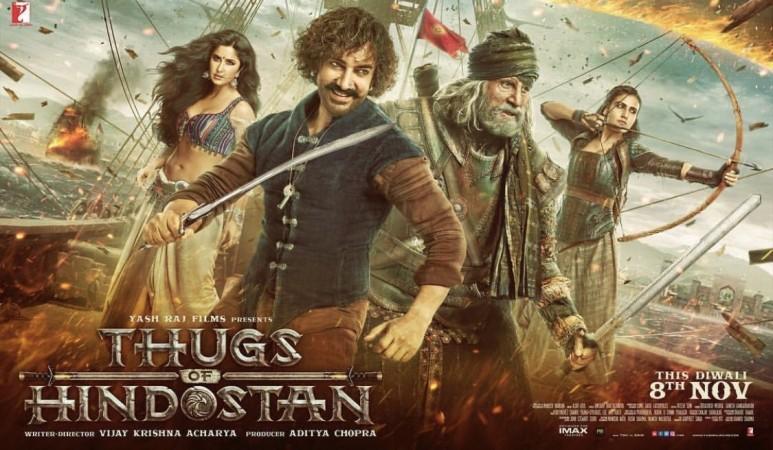 While fans of Aamir Khan and other stars of Thugs of Hindostan (Thugs of Hindustan) were eagerly waiting for the release of the movie, some initial reviews have already come in.
A few of the critics have already come up with their review on Thugs of Hindostan on social media.
The initial reviews on the film are not so positive and have been given a low rating. Critics have expressed their disappointment as Thugs of Hindostan failed to impress due to weak narrative, poor direction and not-so-good performances by the star cast Aamir, Amitabh Bachchan, Katrina Kaif and Fatima Sana Shaikh. Also, the visual effects received negative mention.
Considering the hype around the film, Thugs of Hindostan is expected to have a massive opening at the box office, and some even predicted it to break almost all the previous records.
Check some of the reviews on Thugs of Hindostan by critics. Average critics rating remained 2.5*/5*
Times of India: Apart from the stray funny moments and consistently good visuals (thanks to decent CGI efforts), 'TOH' doesn't really have the punch or the thrill that is required to pull off a film of this scale. At 2 hours and 45 minutes, the film feels a little too long and that's down to the problematic editing. The grand canvas of the film does hold sway in terms of the visual experience, but at the end, this one is all show and no substance. With the mammoth expectations attached to this movie, the end experience just leaves you all at sea. (2.5*/5*)
Hindustan Times: I may be old school, but I believe pirate movies need to have eye-patches. This one doesn't, and that's a shame. The viewing experience would have been hugely improved. I should have gone in wearing two. (1*/5*)
Bollywood Hungama: On the whole, THUGS OF HINDOSTAN has some engrossing moments in the first half, that's about it. The post-interval portions are an absolute downer. The plot is formulaic, while the screenplay is riddled with cinematic liberties. At the box-office, TOH is bound to have a huge weekend thanks to the festive period coupled with tremendous hype and the impressive names involved. But once the initial euphoria settles down, it'll be difficult for the film to sustain. This one is a golden opportunity lost, a KING-SIZED DISAPPOINTMENT! (2*/5*)
Scroll.in: "Thugs of Hindostan cannot match the level of stunts and visual effects of the Pirates films. The sequences set on the sea, where large boats that try to pass off as ships do battle, are sluggishly directed; the ones on land fare no better.
Amitabh Bachchan lumbers through the movie and looks exhausted from the burden of carrying so much armour and baritone-induced gravitas. Katrina Kaif, playing the dancer Suraiya, has exactly three short scenes and two songs. Fatima Sana Shaikh gets the meatier role. Mohammed Zeeshan Ayyub is wasted as Firangi's partner in crime, Sanichar.
Only Aamir Khan seems to be paying any attention to the proceedings, and he ensures that the movie springs to life when he is around. Director Acharya, who has also written the screenplay, reserves the best lines for Firangi, and invests the most in his appealing crookedness. Aamir Khan's eye-rolling is in line with his previous comic turns in Rangeela and Andaz Apna Apna. But Firangi cannot save this Mangal Pandey-on the-sea saga from being scuttled by its ineptitude and palpable disinterest in approaching the freedom struggle with fresh eyes."
News18: Thugs Of Hindostan builds up a narrative and then loses the ground. Just when you begin adjusting to one kind of tonality, it changes into another film. Holding a film together for 165-minutes is anyway a daunting task, but such big stars were expected to bring the party to us. It hasn't happened. It may satiate your need for entertainment this Diwali, but overall, it's a solid case of great boast, little roast. (2*/5*)
NDTV: Glitzily mounted but caught between solemnity and fluffiness, Thugs of Hindostan might entertain large swathes of the audience, but it is ultimately too tacky and unconvincing to lay legitimate claims to being India's answer to Pirates of the Caribbean. It isn't even a poor copy. (2.5*/5*)
Firstpost: Thugs of Hindostan is Bollywood having a blast (quite literally, in some moments!). If its no-holds-barred adoption of the commercial Hindi entertainer's elements can be a flaw at times, for the most part, it works in the film's favour. A mild Pirates of the Caribbean hangover aside, this is prime Diwali blockbuster material — a story of relationships, betrayal, adventure and courage, of underdogs and their unlikely triumphs.
Mumbai Mirror: Given how long India was colonised, a fantasy tale of retribution would be suitably gratifying as it touches a distinct patriotic sentiment. But since this one drags along as if this freedom struggle was playing out in real time, the inevitable triumph barely hits the spot. (2.5*/5*)
Pinkvilla: No doubt the movie is a visual spectacle, but the screenplay of the movie kills the fun in most parts. The dialogues are too modern for a movie set in 1795. Very little attention was paid to the dialect and the whole feeling of the period film. The cinematographer, though, needs to be applauded for capturing the moments so beautifully in his lenses. The ship scenes were directed magnificently. (2.5*/5*)
Times Now: Thugs of Hindostan is a visual spectacle that plays to the gallery with its storyline, making use of the good vs evil undertone. There are moments in the film but nothing spectacular or overwhelming. It's mostly pomp and show and little to no substance and at 2 hours 44 minutes, the film feels a bit too dragged. (2*/5*)