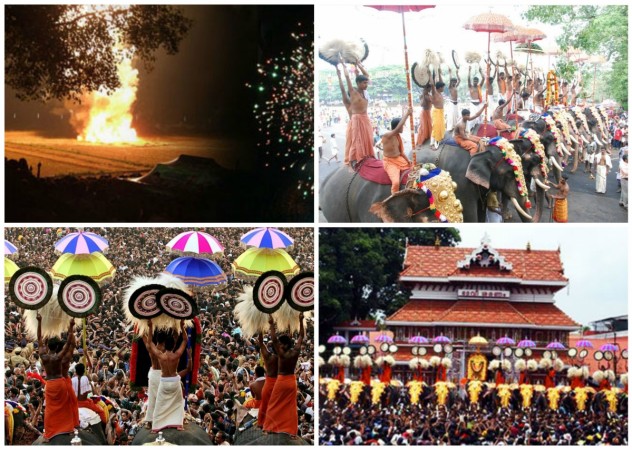 Kerala is set to celebrate Thrissur Pooram, one of the most important festivals in state, on Wednesday, 29 April.
Thrissur Pooram 2015: How and Why it is Celebrated? [VIDEO]
The popular temple festival has recently stirred up controversies, after animal welfare organisations sent warning letters on using elephants for the procession during the festival. Also, Canadian-American actress Pamela Anderson sent an e-mail to Kerala Chief Minister Oommen Chandy to halt the use of elephants for pooram.
Watch the Thrissur Pooram live HERE, HERE, HERE
Thrissur Pooram 2015 in Pictures
However, despite the requests from the actress and other animal rights organisations, the government has clarified that it won't interfere in the age-old traditions.
"All conventions held during the Thrissur Pooram, including parading of elephants, will be observed. If anyone has any complaints with regard to the upkeep of the animals during the festivities, they can bring it to the notice of the government and the government will look into it. But there is no question of any interference with the convention of the pooram," Kerala Forest Minister Thiruvanchoor Radhakrishnan told PTI.
Meanwhile, the Western and Eastern groups of the Thrissur pooram displayed amazing fireworks during the sample vedikettu event on Monday.
Where to Watch Thrissur Pooram 2015 Live
For many, who could not attend the popular festival can watch it online and the entire Thrissur Pooram will be aired on major Malayalam channels.
Check out the live streaming information of Pooram 2015 below:
The 36-hour-long festival will be live streamed by all popular Malayalam news channels.
Watch the Thrissur Pooram live in news channel links - HERE, HERE, HERE, HERE, HERE
Stay tuned to this page for more updates about Thrissur Pooram 2015.
Watch Monday's Sample Fireworks Video Below: