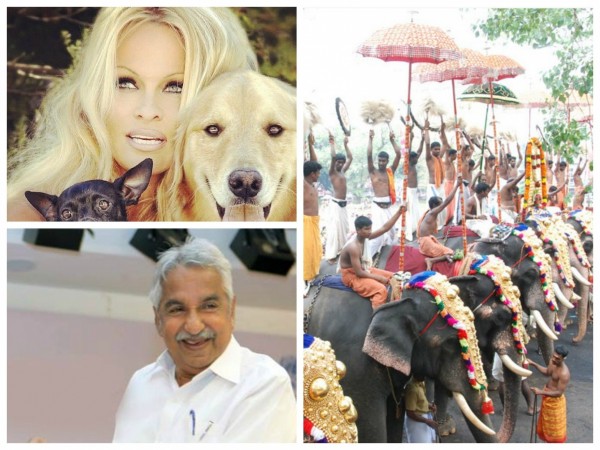 The mother of all poorams, Thrissur Pooram in Kerala is all about procession of elephants, fireworks and competition between Paramekavu and Thiruvambady devaswoms.
Earlier, animal Welfare Board of India and the animal rights organisation PeTA had sent letters to state revenue and forest officials asking them to halt the elephant parade scheduled for Thrissur Pooram on 29 April.
Thrissur Pooram 2015: Sample Fireworks on Monday: How and Why it is Celebrated?
Now, Canadian-American actress Pamela Anderson has sent an email to Kerala Chief Minister Oommen Chandy urging him to not use elephants for the popular festival in the state.
Anderson has even offered to donate money for making 30 life-sized, realistic and portable elephants out of bamboo and papier-mache instead of the live elephants.
"I'm sure you know that both Indian and international public opinion is turning solidly against the use of elephants in captivity. I'd like to offer my support for what is a wonderful opportunity to make a stunning, humane spectacle that everyone would talk about and that would garner international praise," Anderson said in the letter.
"Seeing elephants in chains and forced to walk on hot pavement under the threat of an ankush or other weapon makes people sad and can ruin their holiday," she added.
The letter was sent to the CM just two days before the popular festival in the cultural capital of the state.