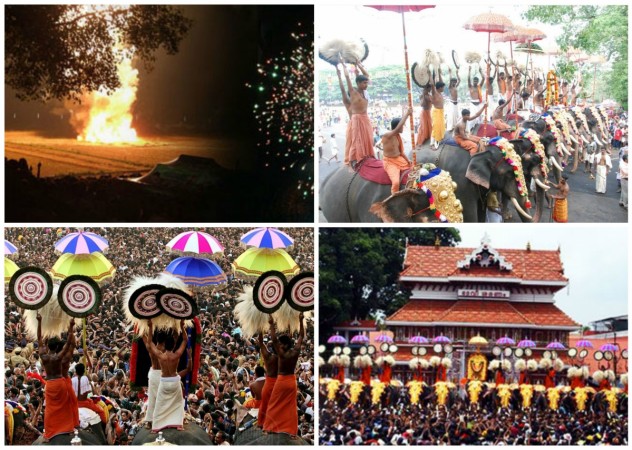 People in the cultural capital of Kerala are set to celebrate 'Thrissur Pooram' at the Vadakkunnathan Temple in Thrissur on Wednesday, 29 April.
The seven-day festival began with a flag hoisting ceremony on Thursday, 23 April, at Thiruvambadi and Paramekkavu devaswoms, which are the main participants of the festival.
Thrissur Pooram 2015 Live Streaming Information
Meanwhile, on Monday at 7:15pm in the evening, the two temples will display their sample vedikettu (fireworks) prior to the main event, which will take place early on Thursday morning (30 April).
Why is Thrissur Pooram celebrated?
The 'mother of all poorams', celebrated in the Malayalam month of Medam (April-May), is the brain child of Maharaja of Cochin Raja Rama Varma, who was known as Sakthan Thampuran.
Earlier, Arattupuzha Pooram was the largest temple festival in Kerala. Historians say that once after temples in Thrissur were not allowed to attend the procession in Arattupuzha, the Maharaja unified 10 temples around Vadakkunnathan Temple and began celebrating Thrissur Pooram in AD 1798.
Western Group and Eastern Group
Sakthan Thampuran divided the temples into two groups: Western and Eastern. The Western group led by Thiruvambadi Sri Krishna Temple consists of Kanimangalam, Laloor, Ayyanthole and Nethilakkavu, among others while the Eastern group led by Paramekkavu Bhagavathi Temple, consists of Karamukku, Chembukavu, Choorakottukavu and Panamukkamppilly, among others. The groups compete against each other to cheer the crowd with the display of fireworks and caparisoned elephants.
Fireworks
The competition between the two groups in displaying fireworks is one of the major highlights of the festival. After the initial sample vedikettu or the first round of fireworks display, each temple would take turns to light their fireworks on the seventh day of the festival from 3am to 6am at Swaraj Round in Thrissur City.
Caparisoned Elephants
During the 36-hour-long pooram, 15 decorated elephants on each side will add to the festival flavours of Thrissur Pooram. The two groups exhibit the new caparisons (Nettipattam), accoutrements (Chamayam), ornamental fans (Aalavattom), royal fans (Venchamarom), sacred bells and decorative umbrellas as part of the competition.
Chenda melam (involves percussion instrument Chenda) and pancha vadyam (orchestra of five instruments) are also part of the festival.