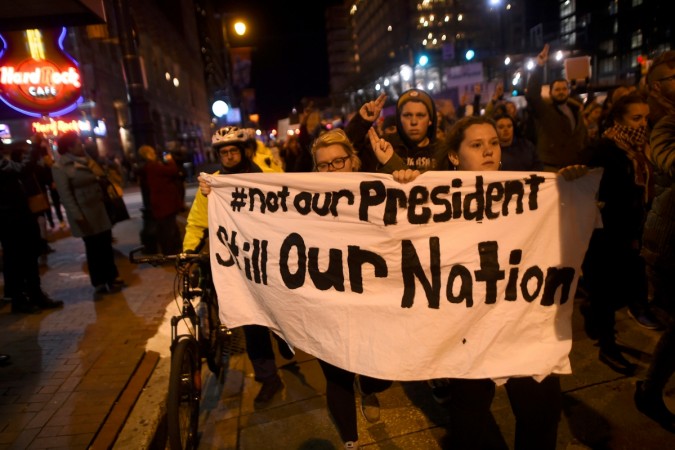 Protests against the United States President-elect Donald Trump continued for the fourth day as thousands of protesters marched in the streets across the nation rejecting Trump's presidency.
Republican presidential candidate Donald Trump won the US elections on Tuesday defeating opponent Democrat Hillary Clinton who received the most number of popular votes in the nation. Trump was declared the winner owing to the number of electoral votes garnered by him. His win has shocked many across the world, especially many Americans who believe Trump promotes hate and divide.
Major anti-Trump protests were held in big cities like New York, Chicago, Los Angeles, Portland and the smaller ones like Massachusetts, Worcester and Iowa city. The protests were largely peaceful except for the one in Portland, Oregon which led to violence and rioting, but was later brought under control by police through tear-gas shelling.
Trump, during his presidential campaign, had made hateful remarks against immigrants, women and Muslims. Trump called Mexicans rapists and drug peddlers and has proposed to build a wall along the US-Mexican border to keep the immigrants out. He has also proposed a ban on all Muslims entering the US. The President-elect had also shocked the nation over his derogatory remarks on women, especially his lewd comments which were revealed in a video recording of 2005, where he openly bragged about sexually assaulting women.
Filmmaker Michael Moore had also joined the New York protesters rejecting Trump's presidency. He had earlier tweeted on social media demanding Trump to "step aside."
Many people were heard shouting slogans of "Not my president, not today", "Love Trumps Hate" and "I will not normalize racism."
An 18-year-old Jennifer Cruz, 18, of Ventura, California participated in a protest in Los Angeles and said that her parents have in the United States illegally for almost 30 years, however her mother has tried seeking citizenship several times but to no avail. She said that her family is terrified that under Trump's presidency they could be deported anyday.
"We talk about it almost every day. My Mom wants to leave it in the hands of God, but I'm not just going to sit back and not do anything. I'm going to fight for my parents, even if it kills me," Cruz said.