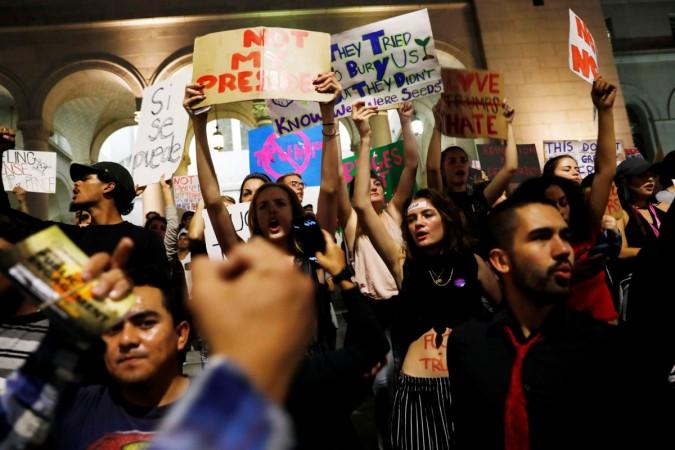 Protesters reprised their positions to protest against President-elect Donald Trump for the third night on Friday in the US.
Thursday night's protests in Portland, Oregon had led to violence and rioting that were brought under control with tear gas shelling. On Friday, protests continued in Los Angeles with far lesser numbers than the first night on Wednesday when thousands of people across New York, Chicago, Los Angeles, Portland, and other cities walked the streets to shout "Not my president elect."
The Los Angeles Police Department had to intervene on Friday night in the city to break up the protests.
Protests, a manifestation of the disappointment that people across the country are feeling over Hillary Clinton's loss, also continued in Philadelphia on Friday. Clinton had won more popular votes, but less votes in the electoral college which stopped her from becoming the first female president.
Portland also launched into protests for the third consecutive night, despite major trouble the night before as did in New Orleans, Miami, Atlanta. Miami's MacArthur Causeway was shut down after protesters continued agitating against Trump's victory.
The protesters have also been criticised for using violent means and not turning up to vote on election day.
Whether media or the general public, America seems to be in shock not willing to accept that the former beauty pageant owner, who was accused of sexual assault by dozens of women, can become the president of the free world. Clinton has been eulogized by many for being strong after the defeat and gracefully telling her supporters to give Trump a chance to lead.
A day after calling the protesters "very unfair", Trump tweeted, "Love the fact that the small groups of protesters last night have passion for our great country. We will all come together and be proud!"
In his acceptance speech, Trump had said that he wants to become a president for all Americans, leaving out his previously racially-charged lexicon away.