Mercy Ships, a global charity that has operated hospital ships in developing nations since 1978, helped in removing a watermelon-sized tumour from the back of a woman from Madagascar. The woman, named Mariette carries the tumour for almost 40 years.
Also Read: REVEALED: Videos of declassified nuclear tests conducted by US
The lump was initially noticed by Mariette when she was in her 20s, by the time she reached her 60s, the tumour had grown enormously: 20 inches bigger and weighing 10 lbs (approximately 4.5 kilograms)!
She was stigmatised because of the tumour; her neighbours called her a monster and people predicted it was caused by black magic. She was also kept away from children because of the lump.
"Some people said it was a spell. Neighbours told their children, "the monster was going to get them"," she said, according to Mail Online.
"That was the most difficult part. They told their kids to be afraid of me and 'not to get too close to that old lady'," she added.
She belonged to a poor family which couldn't afford an operation, hence she was left with no other option but to bear the pain of the non-cancerous tumour for the span of time, that is until Mercy Ships came to her rescue.
She desperately wanted the tumour removed. The tumour, also referred to as a lipoma, is made up of fatty tissue.
In 2014, one of her friends informed her that volunteer doctors were visiting Madagascar and wanted to examine her tumour. They performed a two-hour-long surgery and removed the tumour for no charge.
The operation was risky and could have left her with nerve and skin damage.
The huge lump was attached to Mariette's muscle and skin, and was getting its blood supply through large blood vessels, which meant the doctors had to be very careful while removing it in order to prevent Mariette dying from blood loss.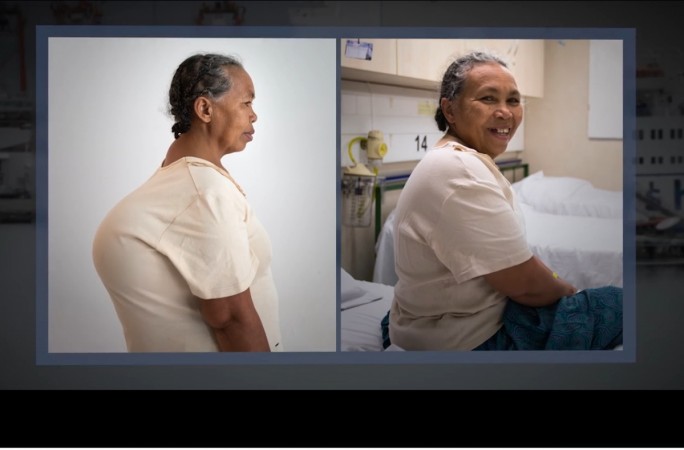 "I'm so happy. The lump was disturbing my life, but we didn't have the money for surgery. I just wanted to be free. I was waiting for it to be gone for a long time," Mariette said after the surgery, Mail Online reported.
"I'm grateful to the surgeons. Without them, I would never have been able to remove that burden. This is my liberation," she added.
Funded by the Rotary club, churches, schools and individuals, the hospital ship stops at different African ports and delivers medical care to those deprived of it.
You can check out Mariette's story in this video: