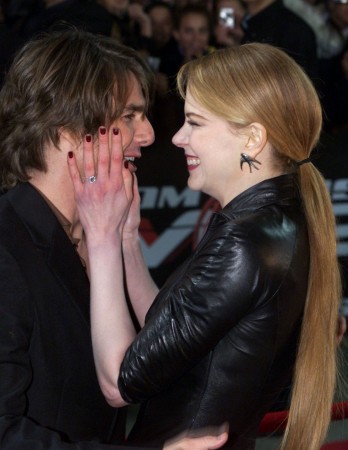 Nicole Kidman and Tom Cruise left everyone shocked when they called off their marriage in 2001 after ruling the 1990s with their romance. While their divorce was one of the most talked about topics at the start of the millennium, the Top Gun star and the Big Little Lies actress refused to reveal the cause of the divorce.
While the couple are still mum about their split, a new theory convincingly explains why Tom and Nicole divorced. Australian media doyenne Kerri-Anne Kennerley told Daily Mail Australia that the couple's separation should be blamed on their movie Eyes Wide Shut.
About 17 years after the two decided to go their own ways, Kennerley believes that Nicole and Tom were pushed to "overthink" their relationship when they were filming the movie.
"If you like someone, you're in love, you have a good time... don't overanalyse it. I still think that Eyes Wide Shut with Tom Cruise and Nicole Kidman spending 18 months being pschyo-analysed by (director Stanley) Kubrick - I reckon that was the undoing of their marriage," she said.
Kennerley feels that the couple were spending so much time and energy scrutinising their relationship that it eventually "broke them down."
"Everyday they were shooting that and (Kubrick) was a bit of a terror for that sort of stuff so I reckon they over-analysed," she explained. Although it is her thoughts, the theory does make a lot of sense. Especially because after the movie released, it did not take too long for the couple to part ways.
Eyes Wide Shut released in 1999 and Tom filed for divorce in 2001 citing "irreconcilable differences." Nicole appeared on Oprah Winfrey's talk show and revealed that it was a nightmare, especially since she was grieving from her second miscarriage.
"I think that divorce is hard for anyone. It's a nightmare, it just is, and you can pretend you're fine. And days you're great [and] days you're not great," the visibly disturbed star revealed. "All I will say is it's been awful — one of those things where you just say, 'I cannot believe this is happening to me,' but I will move forward day by day," she added.
For years, it was rumoured that Tom's faith in was one of the main reasons that Nicole and Tom split. After all, it was also one of the key speculated factors that broke his marriage with Katie Holmes.
Following their divorce, Nicole married Keith Urban and they are now parents to two beautiful girls.