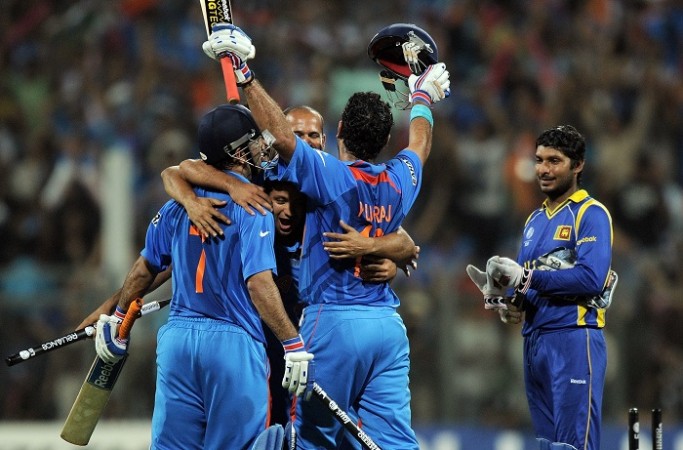 Arjuna Ranatunga, to continue his public feud with Kumar Sangakkara, decided to bring the 2011 World Cup final into question, by alleging there was something wrong with the way Sri Lanka played in Mumbai on that famous night, and with it, unnecessarily bringing a black mark to what was one of the most glorious nights in Indian cricket.
Hey, who can forget MS Dhoni smashing that six over long-on to give India their second World Cup title? Apparently, it was all aided by outside forces, that is according to Ranatunga.
"I was also in India giving commentaries at the time," Ranatunga said in a video on his Facebook page, yeah you know, because he felt it was time to do a Facebook thingy and all he could think of was this. "When we lost, I was distressed and I had a doubt.
"We must investigate what happened to Sri Lanka at the 2011 World Cup final. I cannot reveal everything now, but one day I will. There must be an inquiry."
How we wish retired players would just go quietly into the night and stay there right – retire in peace and just let cricket go about its business.
After Ranatunga stoked up a controversy, the players from the India cricket team, who were a part of that win in the 2011 World Cup final, were asked about their opinions, and the likes of Gautam Gambhir and Ashish Nehra were pretty emphatic in their replies.
"I am surprised by Arjuna Ranatunga's allegations," Gambhir told PTI. "These are serious comments by a very respectable voice in international cricket.
"I think to clear the air, he should back his claims with proof."
Apparently proof will be produced "one day," according to Ranatunga himself, but you know it never will.
And Nehra also rubbished the comments made by Ranatunga.
"I don't wish to dignify Ranatunga's comments by airing my views on the issue," the India fast bowler said. "There is no end for these kinds of statements.
"If I question Sri Lanka's 1996 World Cup victory, is it in good taste? So let's not get into it.
"But yes, it is disappointing when someone of his stature says something like this."