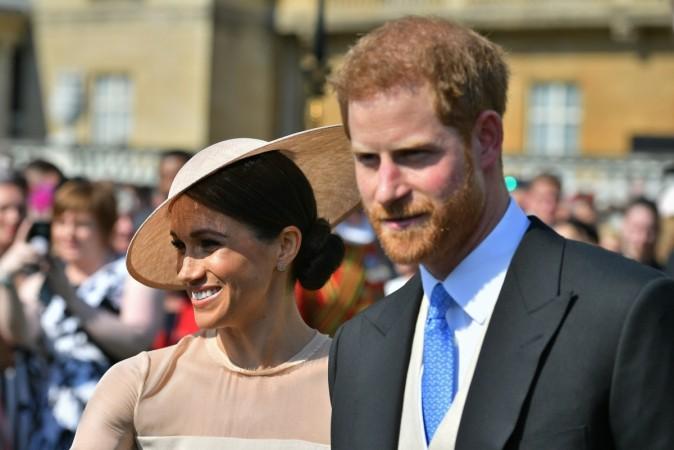 Ever since Meghan Markle got married to Prince Harry, both of them have always been on the headlines for various reasons, this time it's a hilarious one. The Duke and Duchess of Sussex went on a two-day tour to Ireland and charmed the locals on their very first official overseas trip as a married couple.
During this meet on Wednesday, Markle was dressed in a white T-shirt and black suit by Givenchy and she accessorised the look with a Givenchy clutch and black leather heels.
Both of them are extremely fond of children and hence they made sure to meet all the young footballers, who were a part of entourage, including a three-year-old Walter Kieran. The adorable baby was spotted blowing kisses to the Duchess of Sussex and was seen playing with Markle's hair that was left open.
The 36-year-old Markle also responded to the little boy's gesture by interacting with him in a playful way, while he was being by his father. Soon, Prince Harry also joined them and wagged his finger at Kieran as if he was warning him from touching Markle's hair.
This sweet interaction was enjoyed by everyone as the thre were seen giggling together. Meghan Markle and Prince Harry also mingled with the other kids who were present at the meet.
Meanwhile, there are rumours that the Duke and Duchess of Sussex are planning to have their own children soon. In an interview with Entertainment Tonight, royal expert Katie Nicholl said: "My sources are saying that Prince Harry, particularly, is keen to start a family, pretty soon after the royal wedding. He's made no secret about wanting children."
But, several other sources claim that the newly-wed couple would preferable follow the footsteps of Prince William and Kate Middleton and wait for some more years to have children.
Amid so many rumours, there are speculations of the Queen stepping down as well and the two most trusted aides of Queen Elizabeth II have apparently resigned from their work on July 11, the Express reported. Sally Osman, the Director of Royal Communications, and Steve Kingstone, who worked as the Queen's Media Secretary, reportedly took the decision as their positions are being merged.
ALSO READ: Prince William, Kate Middleton spotted together with all their babies for the first time
Related