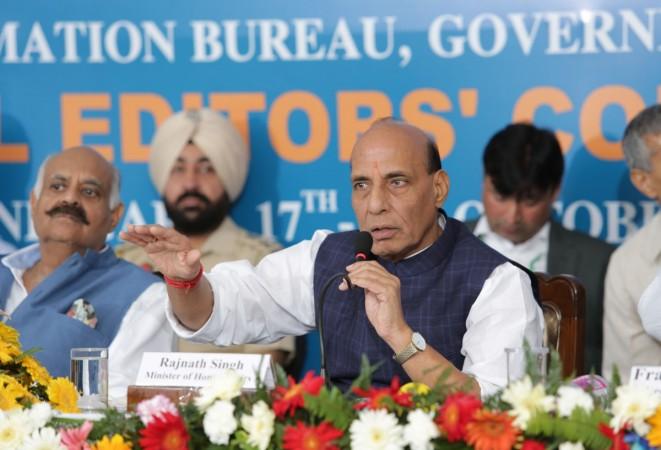 Union Home Minister Rajnath Singh on Monday outlined the plan that his ministry has devised to seal the border between India and Pakistan — an announcement made earlier this month — to keep terrorists from infiltrating into the country from the neighbouring nation.
India has for long held that Pakistan is the source for all terrorism in the country, and has accused the neighbouring nation of not only fomenting terrorism from its soil, but also sponsoring it to quite an extent. To that end, India is currently on a push to isolate Pakistan at the world stage on the topic of terrorism, with Prime Minister Narendra Modi on Sunday calling the country the "mother-ship" of terrorism.
Physical barriers
Now, Rajnath, speaking at the Regional Editors' Conference in Chandigarh, has explained exactly how India plans to go ahead with the sealing of the border with Pakistan. Talking of the border India shares with Pakistan, he said physical barrier had been set up along 2,034.96 km of the total stretch of 2,289.6 km.
This includes the monitoring of border roads, flood-lighting of the area, and building of border out-posts, all of which are taking place as per recommendations of the Madhukar committee, set up by the Union Home Ministry four months ago for ideas on how to stop infiltration from Pakistan, where, Rajnath said terrorism had become a state policy.
Non-physical barriers
As for the remaining 254.8 km, Rajnath said these were places like lakes or riverine or marshy stretches, where physical barriers could not be constructed, and hence non-physical barriers were being put in place. These include "technological solutions" like "cameras, sensors, radars and laser walls," said the home minister.
The Border Security Force, which is tasked with manning the Indo-Pakistan border, is already implementing pilot projects of these non-physical barriers in Jammu and Kashmir, Punjab and Gujarat, said Rajnath. He added that the result of this experiment would be submitted by the end of this year, helping to identify the challenges and benefits of it, as well as any loopholes that need to be plugged.