Bollywood filmmaker Anurag Kashyap, who has been vocal about various current affairs, reacted to actress Payal Ghosh's sexual harassment charges against him and denied misbehaving with her or any other women.
Payal Ghosh made serious charges against Anurag Kashyap in TV interviews and requested the Prime Minister to give her security. The actress tweeted, "@anuragkashyap72 has forced himself on me and extremely badly. @PMOIndia @narendramodi ji, kindly take action and let the country see the demon behind this creative guy. I am aware that it can harm me and my security is at risk. Pls help!"
The Bollywood filmmaker took to Twitter to react to her allegations. In a series of tweets posted in Hindi, Anurag Kashyap claimed that it is an act of silencing him and Payal Ghosh charges are baseless. Many people are trying to defame him, his colleagues, and the Bachchan family, but they are not successful.
Meanwhile, Anurag Kashyap admitted marrying two women and having several love affairs. But he has neither misbehaved with any woman nor will he tolerate it. Referring to Payal Ghosh's interview, the director said that the video has clear proofs on what is right and wrong.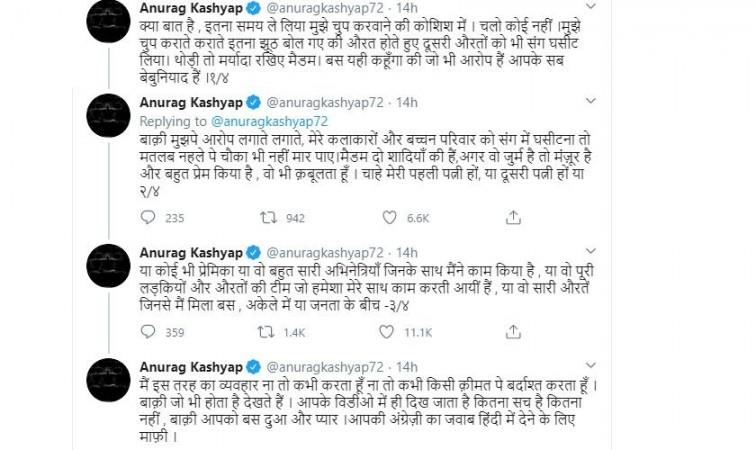 Here is the literal translation of Anurag Kashyap's series posted in Hindi:
What's the matter, you took so long to try to silence me. Come on, no issues. While silencing me, you told so many lies that having a woman, I dragged other women along. Be modest, madam. I will just say that all your allegations are baseless. The rest, who are accusing me, dragging my actors and Bachchan family together, could not even hit the fours. Madam I have two marriages. If it is a crime, it is acceptable and I have loved a lot and I admit it. Be it is my first wife or a second wife or the girls I loved, or the actresses, who I have worked with me, all those female staff members, who have been working with him, all those women, who I have met in private or public, I will neither behave in such a way nor I will tolerate at any cost. Let us see whatever happens. It is visible in your video, how much is true, how much is wrong. Rest you will have my blessings and love. I apologise you for answer in Hindi for you questions in English.