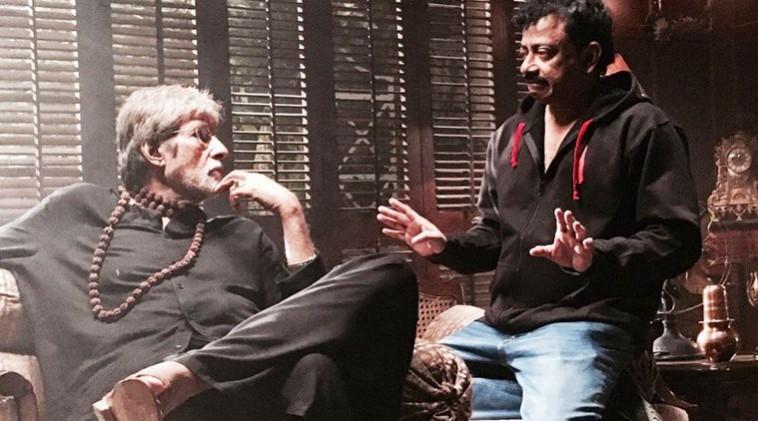 Filmmaker Ram Gopal Varma, who is currently busy shooting for his upcoming Hindi movie Sarkar 3, has revealed that megastar Amitabh Bachchan made him cry with his kind words for him.
In a recent interview, Amitabh Bachchan encountered a question on the inconsistency of Ram Gopal Varma's movies. The Bollywood actor defended the director saying that he is a restless creative mind. The controversial filmmaker was in tears after he read the interview.
Ram Gopal Varma took to his Facebook account and posted a note. He also shared excerpts of the interview and wrote: "I am not at all an emotional person but what Amitji said about me in an interview with Subhash k Jha moved me to tears..I hope i deserve and I will live up to his trust."
Here are the excerpts of Amitabh Bachchan's interview posted by Ram Gopal Varma:
S: Ram Gopal Varma is a very strange filmmaker, if for no other reason then the inconsistency of his output. Having done so many films with him. how would you describe your working relationship with this director?
A: You are so right - inconsistency is indeed 'strange'. It is 'strange' because consistency is downright boring and static - for some. Not all, but for some. If one were to 'consistently' wear black, how would they ever discover the presence or the beauty of an alternative color. Whether they like that range of difference is another matter, but deprived of it would be, to them, discomforting. RGV is inconsistent because he is a restless creative mind, willing and deliberating continuously, to search valuable seed through his 'outputs'. To have made me a part of that desire is a privilege for me. It challenged me, provoked me - a condition, I am absolutely convinced, every creative artist pleads for. RGV's 'inconsistency' may not have given him the desired results he expected, but which artist, maker, producer, director has been able to achieve consistent box office success. Has that stopped us from admiring and applauding their efforts?Every 'inconsistent' offer that RGV included me in, found me striving to live up to his vision. They have all been exercises of great learning. Positive learning.
S: So you approve of and admire Ramu's inconsistency?
A: Stanley Kubrik,cited as one of the most influential Directors in cinematic history has had the most diverse and 'inconsistent' temperament in his choice of films. From the iconic and revolutionary '2001 Space Odyssey' made in the 60's, to a period film, to 'The Shining', 'Clockwork Orange' 'Dr Strangelove' is the genius of an inconsistent Director. Inconsistency has ridden with the more recent creators too. Spielberg shifted from an extra terrestrial experience to the Holocaust. Would you call that inconsistency questionable ??!Yes .. 'inconsistency' is 'strange' !!
S: Ramu has gone on record to say he regrets doing all the films he has done with you except the Sarkar franchise. Your comments please?
A: This defeats the argument of the previous response. He is wrong. I wouldn't mind being part of his further regrets!
However, Ram Gopal Varma has done nearly 50 movies in Hindi and Amitabh Bachchan has been part of seven of his movies like Sarkar, Darna Zaroori Hai, Nishabd, Aag, Sarkar Raj, Rann and Department. The duo, which has maintained very good relationship, has joined hands again for eighth time for Sarkar 3, which is slated to be released in theatres on 7 April.