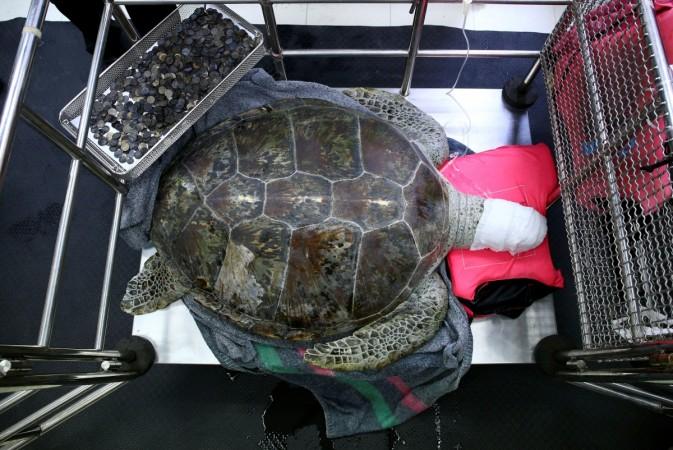 A 25-year-old female green sea turtle, Omsin, from Thailand was recently operated and the doctors removed a total of 915 coins swallowed by her.
Also Read: Bizarre sea monster captured by Russian fisherman stuns science world!
The reason behind this surgery was the superstitious ritual of flipping coins in a fountain for good luck. Tourists had been tossing coins in the pool, which is located in the eastern town of Sri Racha, for many years. As per the belief of Thai people, throwing coins on turtles brings them long life.
The turtle was nicknamed 'Bank' after this incident. She underwent the operation in Bangkok on Monday, March 6.
"It is hard to imagine how it swallowed such a large number of coins," Pasakorn Brikshavana, a vet with the Chulalongkorn University team that performed the surgery, was quoted as saying by Bangkok Post.
"I've never seen such a case before," Brikshavana added.
The lifespan of a green sea turtle is around 80 years and as per the International Union for Conservation of Nature, this species is listed as an endangered species, Roongroje Thanawongnuwech, dean of Chulalongkorn University's veterinary faculty, revealed.
The consumption of coins led to the formation of an enormous ball in her stomach which weighed 5 kg (11 pounds), due to this a crack was formed in the ventral shell of the turtle, causing a deadly infection.

Bank was given general anaesthesia and the operation was carried out by five surgeons for a span of four hours. The doctors created a dissection of around 10 cm (4-inch) to remove the ball of coins, but the slit was too small to remove the coins at once. Hence, the doctors patiently removed some coins at a time, most of the coins were partly dissolved or corroded, fox6now.com reported.
"The result is satisfactory. Now, it's up to Bank how much she can recover," said Pasakorn Briksawan, a surgical team member.
The navy brought her to the doctors after they found that she was sick. The problem was detected after she underwent a detailed 3D scan. "I felt angry that humans, whether or not they meant to do it or if they did it without thinking, had caused harm to this turtle," said Nantarika Chansue, head of Chulalongkorn University's veterinary medical aquatic animal research centre.
The coins removed comprised both foreign and local currencies, CNN reported.
Apart from coins, two fish hooks were also found in her stomach. With the help of media publicity, a total of 15,000 baht ($428) was raised in donations for Bank's surgery.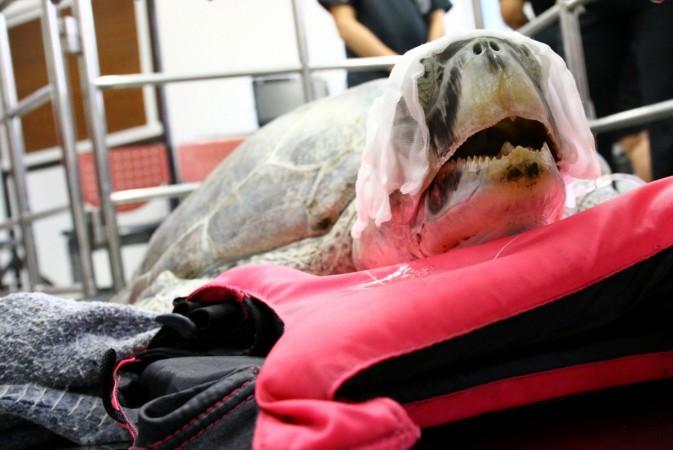 Omsin is presently recovering at the animal hospital in Chulalongkorn University and will be on liquid diet for two weeks.