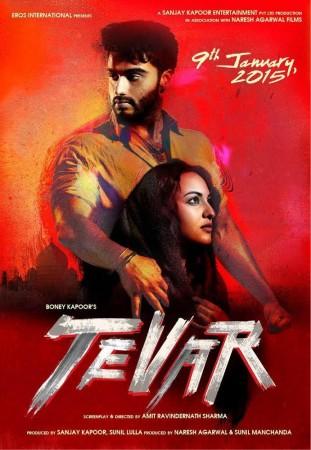 The box office collection of action romantic drama "Tevar" dropped on first Monday in India, while its performance in international market has been disappointing.
"Tevar" starring Arjun Kapoor, Sonakshi Sinha and Manoj Bajpayee was released on 9 January in approximately 3,000 screens in India. Trade experts believed that the film would have a good start, but surprisingly it opened with below average occupancy.
The business of the film was expected to grow during the opening weekend, but it failed to do so. And on Monday it witnessed a drop of around 40%.
The film minted approximately ₹3.5 crore on fourth day, taking its overall total to ₹25.55 crore, according to Bollywood Hungama.
Here is the four day break-up of the film: Friday ₹7.05 crore, Saturday ₹7 crore, Sunday ₹8 crore and Monday ₹3.5 crore.
Talking about international market, "Tevar" disappointed with its poor box office performance. Over the weekend, the film raked in just $1.1 million (₹6.87 crore) from global markets.
"Tevar" fared well from the UK-Ireland box office, where it earned £71,511 (₹67.42 lakh) from 44 screens. The film was released in 125 screens at the US box office, but it fetched in only $ 125,908 (₹78.70 lakh).
From Australian box office it minted A$ 32,955 (₹16.71 lakh), while from New Zealand it minted NZ$ 9,953 (₹4.86 lakh).