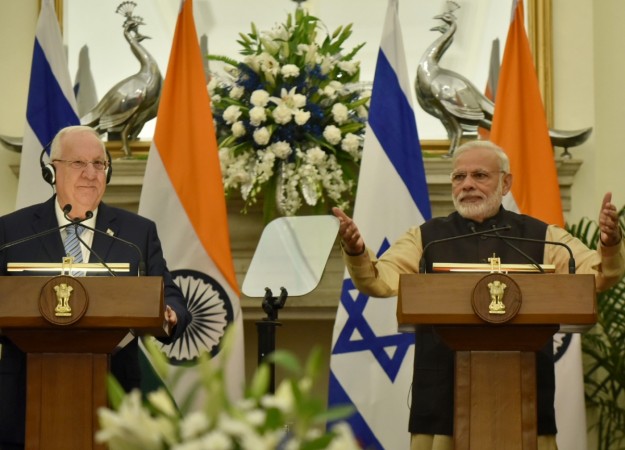 Israel President Reuven Rivlin on Tuesday backed India's fight against terrorism, saying that "terror is terror" and that nothing could justify terrorism.
"Israel and India are threatened by terror because we uphold the values of freedom," Rivlin, who is on an eight-day visit to India, said following talks with Prime Minister Narendra Modi.
Modi also targeted Pakistan without taking the country's name, and said: "We recognise that terrorism is a global challenge, knows no boundaries and has extensive links with other forms of organised crime. Regrettably, one of the countries of its origin and spread is in India's neighbourhood... we agreed that the international community must act with resolve and determination against terror networks and states that harbour them. Failure to act and silence of speech only encourages the terrorists."
Talking about Modi's request for Israel's participation in the Make in India campaign, Riviln said: "Israel is ready to answer the Prime Minister's call — we are ready to 'Make in India' and make with India. Israeli companies can tie up with Indian flagship programmes like Make in India."
Modi spoke about Israel's partnership with India in the defence sector and said that both countries agreed upon the need to make it (defence) more broad-based through production and manufacturing partnerships. The prime minister added that Israel has emerged as a major supplier of defence equipment and Delhi now wants the products to be manufactured in India.
Modi thanked Israel for supporting India's request for permanent candidature in the United Nations Security Council. He said that both India and Israel agreed to promote educational exchange and people-to-people contact through culture and tourism.
Both countries also signed a couple of agreements for water resources management and agriculture.
"Israel and India have changed history before, and it is time to do it again... this is not just a partnership, it is a partnership which is making a difference, in the water we drink, food we we eat, technology we use," Rivlin said.
The Israel president also invited Modi to Israel to attend the celebration of 25 years of diplomatic relations between India and Israel, scheduled to take place in 2017. Modi is likely to visit Israel for the celebrations next year, the Indian Express reported.
Rivlin also met President Pranab Mukherjee and Vice President Hamid Ansari.