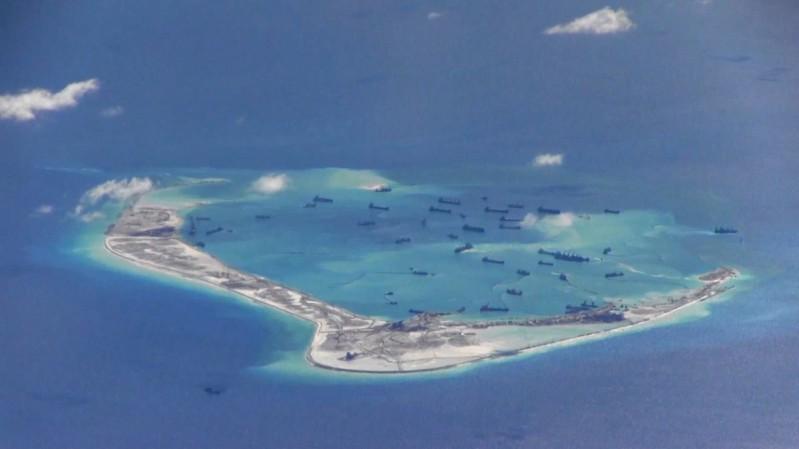 The Pentagon has ratcheted up rhetoric about China's militarisation of islands in the South China Sea, even as President Donald Trump's administration presses Beijing for cooperation on North Korea, the media reported.
When asked by a reporter about the ability of the US to "blow apart" one of China's controversial man-made islands, Lt. Gen. Kenneth McKenzie, director of the Joint Staff, said on Thursday: "I would just tell you that the US military has had a lot of experience in the Western Pacific taking down small islands."
His comments come amid growing tension in highly contested region, as the US ramps up freedom of navigation operations in response to China's steady militarisation of its artificial islands, reports CNN.
The US Navy sailed two warships within 12 nautical miles of the disputed Paracel Islands last week, the first time it has used more than one vessel in the operations, which are meant to demonstrate the right of free passage in international waters.
On Wednesday, Admral Harry Harris, outgoing head of the US Indo-Pacific Command, said China was the US's "biggest long-term challenge" in the region.
The Chinese government has reacted furiously to the recent US statements, CNN reported.
At her regular press conference on Thursday, Chinese Foreign Ministry spokeswoman Hua Chunying said the US accusing China of militarising the region was "like a thief crying, 'Stop thief!'".
"Why does the US choose to sail every now and then close to Chinese South China Sea islands and reefs? What is the US trying to do?" she asked.
The US regularly conducts freedom of navigation operations in the South China Sea.
During the latest operation, the US said a Chinese ship operated in an unprofessional manner close to the American Navy ships.
[ source - IANS]