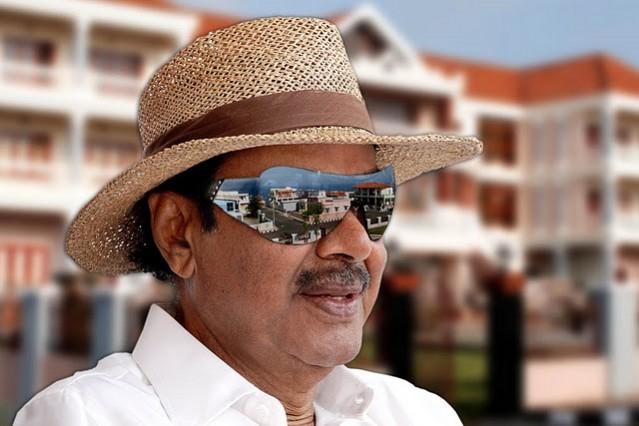 Multilingual Indian film producer Daggubati Ramanaidu (D Rama Naidu) passed away in Hyderabad on Wednesday afternoon, 18 February after a long battle with cancer.
See Rama Naidu's Rare and Unseen Pictures
In January 2014, reports emerged that Daggubati Ramanaidu was suffering from prostate cancer and he was undergoing treatment for it at a private hospital in Hyderabad. Sadly, the filmmaker succumbed to it. He was 78 and is survived by sons Suresh Babu, Venkatesh and grandson Rana.
Born in Karamchedu in Andhra Pradesh on 6 June 1936, Rama Naidu took up several odd jobs such as rice mill business and bus transport business in Karamchedu before getting into the film industry. His interests shifted to films when someone from his area started Shambu Films, a production agency. He got acquainted with late legendary actor Akkineni Nageshwara Rao as he started looking after on-set shoot arrangements.
After getting acquainted with few other actors, Rama Naidu started Suresh Productions with his childhood friends G Rajendra Prasad and Subba Rao and produced "Raamudu Bheemudu" in 1964. It was a tremendous hit at the box office. Then onwards, there was no look back for this filmmaker.
Later, Rama Naidu produced and directed many movies in Telugu and he churned out several blockbuster films. He also produced and directed movies in Hindi, Tamil, Telugu, Kannada, Malayalam, Oriya, Punjabi and English. Probably, he is the only filmmaker in Indian cinema to work in so many languages.
The filmmaker, who produced 150 films in 13 Indian languages, held the Guinness Record for the maximum number of films produced by an individual. In 2012, he was conferred with the Padma Bhushan in recognition for his contribution to Telugu cinema. In 2009, he received the Dada Saheb Phalke Award for Lifetime Achievement in the film industry for his outstanding contribution.
Rama Naidu also served as a member of parliament for the Bapatala constituency of Guntur District in the 13th Lok Sabha from 1999–2004. He had contributed a substantial part of his earnings to numerous philanthropic purposes including the Ramanaidu Charitable Trust that was founded in 1991.
His death has shocked many across the globe. Soon after the news of his sudden demise broke out, many of his fans took to their Twitter pages and offered prayers to his departed soul and expressed condolences to his family
Nikhil Siddhartha: The Great Man is no more... Telugu Film Industry has lost another LEGEND... Ramanaidu Sir ur such a kind Great Person.. We Will miss u sir. He lived only for Cinema... Thanks for all the great films u have given us over the past decades Ramanaidu sir. _/_
Mohan Babu M: RIP one of the greatest producer Dr.RamaNaidu Garu, an inspiration to many producers and I have learnt a lot from him. Disheartening news
Allari Naresh: Suryudu Asthaminchadu! Black day for Whole TFI to Loose a Legendary Soul like D Rama Naidu Garu! Man of True Inspiration & Wonderful Human!
Ram Pothineni: RIP #Ramanaidu Garu..Nothing I say will ever be enough to thank you for your contribution to d TFI! You shall live on for a long long time..
Hansika Motwani: Truly a legend! Dr. D.Ramanaidu garu RIP . Deepest condolence to the family.
Pranitha: Very sad to hear that Legendary producer D Rama Naidu Garu is no more .. May his soul rest in peace. Truly the pride of Telugu cinema...
Ram Achanta: Inspiration fr any producer in TFI.Dr D.Rama Naidu garu passes away.Always blessed us & encouraged us true to d heart.MayHisSoul RestInPeace
Poorvi Pictures: RIP Ramanaidu garu !! Tollywoods only producer with passion towards Film Making.
Navdeep: The first name which we think about when anyone talks about telugu films today! a great man a true legend doctor daggubati ramannaidu garu has left us today may his soul rest in peace his dedication n love towards films shall never be forgotten as long as this industry is in existence!! ramanaidu garu has left us today may his soul rest in peace his dedication n love towards films shall never be forgotten as long
Madhura Sreedhar : Legendary Producer Dr. D. Rama Naidu garu is no more. Very sad day for Telugu Cinema Lovers!
Richa Panai: Extremely sad to hear about Ramanaidu garu's demise.May his soul RIP.:-(
Sundeep Kishan: Bad Bad News..the True Legend of Telugu cinema RamaNaidu Garu is no more..shocked..such an amazing Human Being..RIP sir,you are our Pride :(
Manchu Manoj: The gr8 legendary man who created magic in indian cinema Dr Rama Naidu ThaTha garu Rip ... I'm sorry @RanaDaggubati and family ....
Nani: A legend leaves .. Goodbye sir .. U might have left in one form but you are alive in many .. RIP RAMANAIDU GAARU .
Rahul Ravindran: News just coming in about Ramanaidu sir... Terrible loss to all of us. What a legend.. Such a terrific person.. So much positivity. RIP Sir Will forever cherish having gotten the chance to work with you sir. He always had plenty of blessings & cheer to spread. Am sure you will continue to make movies up there sir. RIP Dr.Ramanaidu garu. I did the last film Ramanaidu garu produced..How I wish it had been a huge hit just for Sir.
Vennela Kishore: RIP to the KING..RIP to the LEGEND..RIP Ramanaidu garu
Neelima Tirumalasett: Deeply saddened to hear about RamaNaidu garu. Rest in peace! My heartfelt condolences to the family.
Vimala Raman: Very saddened to hear the loss of a great asset to the movie world Ramanaidu Sir, thankyou for Everything you have given to the industry RIP
Kousalya: Undoubtedly he is a legend. Im happy that i have few moments shared with such a sweet person. Now...today the whole TFI lost a great person.. #RIPRamanaidu garu.. Condolences to the family..
Samantha Ruth Prabhu: Another day another loss. RIP Ramanaidu garu . Strength to the family.
Riteish Deshmukh: Legendary filmmaker Daggubati Ramanaidu passes away-his contribution in building Indian Cinema is immense. thank you sir. RIP Deepest condolences to the Daggubati family- Suresh sir, Venky sir @RanaDaggubati
Madhur Bhandarkar: Sad to know Dadasaheb Phalke awardee, veteran producer of South & Hindi films, D Rama Naidu is no more. Heart goes out to d family. RIP,Sir.
Kona Venkat: I'm shocked to hear the demise of Sri Ramanaidu garu.. A great personality and a wonderful human being.. Too sad
Madhu Shalini: Saddened to hear about Sir Rama Naidu garu... Such a big loss to the Film Fraternity.. :(
Prakash Raj: Padma bhushana #Dr.Rama Naidu Garu... Thank you for enriching cinema.. We may never see the likes of u..Salute...RIP.
Sanjjanaa Galrani: The only fatherlyfigure I had Dr.ramanaidu sir passesaway today,somany found memories I hAv of filming with @SureshProdns and him,speechless
Devi Sri Prasad: Cant believe d shockin news of d demise of Legendary Producer Ramanaidu garu.:( he was a Trend Setter n Inspiration 2 d Industry! R.I.P SIR
Priyamani: Oh no!!!!i cannot believe this....one of my most favourite people in the industry DR Rama Naidu sir is no more!!huge loss for the industry. One of the most positive persons I hv met in my life!!!!its a huge loss to the industry!!!strength and love to the family:( Sad day:(
Taapsee Pannu: A legend left us today. Privileged to have met him in person a few times. RIP Ramanaidu garu. Strength to the family @RanaDaggubati
Rakul Preet Singh: Such a huge loss to the film industry. Ramanaidu garu passed away.. Shocked !! Speechless!! RIP sir.. Strength to d fAmily
Nora Fatehi: RIP Producer Daggubati Ramanaidu Garu is No more ..
Harish Shankar: RIP Legend .... RAMANAIDU GAARU No One would Replace him... A true Cinema Lover ....
Naresh: The legend RAMANAIDU IS NO MORE.R.I.P. WE MISS U. Heart felt condolences to the family