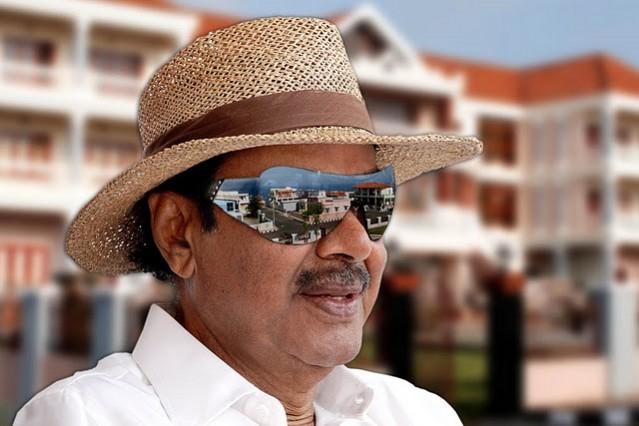 Telugu film producer Daggubati Ramanaidu (D Ramanaidu) passed away on Wednesday, 18 February, in Hyderabad after a long battle with cancer. He was 78.
For the past few months, Naidu, who was suffering from prostrate cancer, was undergoing treatment in a private hospital in Hyderabad.
He has produced more than 150 films in 13 languages. He also holds the Guinness Book of World Records for producing most number of films by an individual.
Naidu has also served as the Member of Parliament in the 13th Lok Sabha from 1999-2004.
Considering his contribution to the Kollywood industry, he received Dada Saheb Phalke Lifetime Achievement Award in 2009 and was also awarded the Padma Bhushan in 2012.
He is survived by two sons and a daughter - producer Suresh Babu, actor Venkatesh Daggubati and Daggubati Lakshmi.
Check out Rare and Unseen Pictures of the Late Telugu Producer below:
MovieMoughal,da man who produced movies in many Indian languages,DadaSahebphalke awardee #ramaNaidu is no more vth us pic.twitter.com/nZNtTij6El

— Venkatesh Pilla (@venkatesh_28) February 18, 2015
Rest In Peace Legend Dr D #Ramanaidu Garu.._/_ Indian Film Industry misses you forever & ever..:( #DrDRamanaiduGaru pic.twitter.com/rVyyJvlxuR — TEMPER MANIA ../ (@praveen_rambo) February 18, 2015
Movie moghal dr. D. #RamaNaidu is no more.... A big loss to whole Indian Cinema...may his soul RIP.... pic.twitter.com/ALh94DbDMy

— Akhil Aswadhati (@akhil_aswadhati) February 18, 2015
"@telugufilmnagar: Rare photo of #ShobanBabu and #Krishna with #RamaNaidu. #ThrowBackThursday @RanaDaggubati pic.twitter.com/yDqb7nrgWi" — Rana Daggubati (@RanaDaggubati) July 24, 2014
#HappyBirthday to Movie Mogul, #Padmabhushan Dr.D.#Ramanaidu garu. Wish you a happy & healthy life ahead sir. pic.twitter.com/THkoxPORYj

— Abhi (@iABhi18) June 6, 2014
#RamaNaidu D Rama Naidu: From Farm Land to Film Land http://t.co/rjj9JXzMEq pic.twitter.com/eWOB2pM0Oc — Sakshi Post (@SakshiPost) February 18, 2015
Rest in Peace #Ramanaidu Garu..! pic.twitter.com/JF5jO0R3gV

— ★Maheshbabu FanClub★ (@MaheshBabuFacts) February 18, 2015
Rare Pic : Movie Mogul #Ramanaidu garu with Super Star #Krishna garu on the location of #MandeGundelu pic.twitter.com/wGpCQdPHRs — iDream Media (@iDreamMedia) February 6, 2015
Thanks #daggubati #ramanaidu #sureshproductions this moment was priceless. I'm honored standin ryt nxt 2 u. pic.twitter.com/1WTRegO4DF

— URVASHI RAUTELA (@URautelaForever) September 2, 2014
#VictoryVenkatesh #Nadhia #Ramanaidu garu in #Drushyam Sucess meet pic.twitter.com/N6PXYgXnuw — Manoj Venky (@manoj_victory) July 25, 2014
Birthday wishes to #Ramanaidu mavayya. #Legend. Always thankful to have worked under him for Madhumasam pic.twitter.com/pyuuBhVcky

— Sumanth (@iSumanth) June 6, 2014
"Movie Moghal" #Ramanaidu gariki puttinaRoju Subhakankshalu ..http://t.co/KjnZqbzUaW pic.twitter.com/O4QWhE5YqW — AHITEJA (@ahiteja666) June 6, 2014
[ RARE ] - #Sathya #KamalHaasan With #RamaNaidu !!! pic.twitter.com/SMXoYjoH3r

— SundaR KamaL (@Kamaladdict7) April 10, 2014
A Photo Moment. @RanaDaggubati #NagaChaitanya and #Ramanaidu garu. @RanaFanClub @AkkineniRockz pic.twitter.com/PGCl3wU4jI — Telugu Filmnagar (@telugufilmnagar) November 20, 2013
And the life time achievement awards goes to Raghavendra Rao, given by #kamal #ANR #ramanaidu #cinemaawards pic.twitter.com/ZPJyEF20

— Midwest Movies (@midwestmoviesus) June 17, 2012