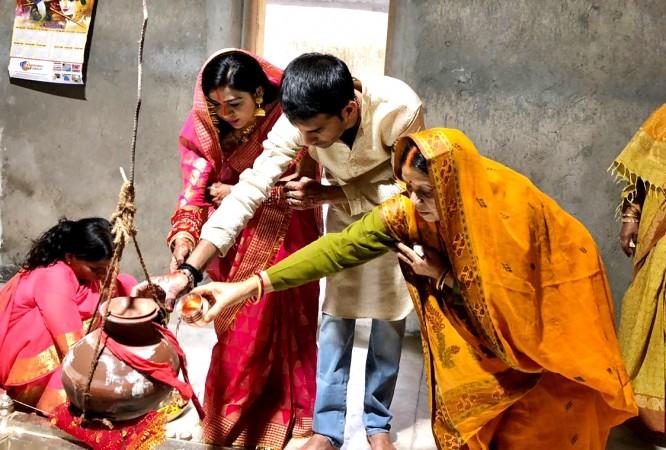 Rashtriya Janata Dal (RJD) leader Tej Pratap Yadav, who has left Instagram swooning over a photograph of him and his wife Aishwarya Rai going on a bicycle ride, said on Thursday (May 17) that he doesn't want his spouse to join politics.
Tej Pratap, who tied the knot with Aishwarya Rai, the daughter of ex-minister Chandrika Rai Saturday (May 12) had gone to attend a meeting at the Bihar Legislative Assembly in Patna, when he was asked whether his wife would join politics like his mother. Lalu Prasad's elder son straightway answered "no" and also stated why he doesn't wants her to become a politician.
"There is no chance of Aishwarya coming in politics and I personally do not want her to be in politics. She is happy while serving the in-laws and she is a good wife, who is not only taking care of me but also my father and mother. She is a good-natured girl and I am lucky a man," The Telegraph quoted the Tej Pratap as saying.
The former health minister was asked about Aishwarya's plans to enter politics as she belongs to a political family. Apart from her mother, who is the MLA from Parsa in Saran district, her grandfather Daroga Prasad Rai was the former chief minister of Bihar.
Moreover, reports have claimed that Aishwarya will be fielded from Chhapra in the upcoming Lok Sabha election, as the RJD supremo Lalu has a stronghold in the headquarters of the Saran district.
Earlier, Tej Pratap's mother Rabri Devi too had said that Aishwarya would not be joining politics.
However, a senior RJD leader, who chose to remain anonymous told the English daily that Aishwarya will enter politics if the need arises.
"Tej Pratap ji may claim that he does not want his wife to join politics but time will tell. If the situation arises in the family, she will definitely enter the political ring. You already know the current situation how Laluji, Tejashwiji, Misaji and Rabriji are under the scanner of central investigative agencies," the RJD leader said.
Meanwhile, Tej Pratap has said that he doesn't want to disclose his honeymoon plans in public.