Fourteen-year-old Emanuel Zayas has been suffering from a tumour the size of a basketball – that too on his face – and now, is all set to undergo a life-saving surgery before the giant tumour suffocates him to death.
Born with polyostotic fibrous dysplasia, Emanuel's condition replaces tissue with bone, causing deformities of the legs, arms and skull. The first sign of this tumour had appeared when he was 11 and then he had assumed it was just a zit on his nose.
Also read: Toddler with 'tennis ball' nose awaits life-saving surgery as she is branded a 'curse' by family
Unfortunately, it was much more serious – a skull bone was growing from his upper jaw, which would go on to take up almost the entirety of his face, affecting the way he eats, sees and talks, practically leaving him unrecognizable.
Even though the tumour is non-cancerous, it continues to be life threatening, since continued growth might lead to its massive size suffocating Emanuel, while its heavy weight will fracture his neck.
Dr Robert Marx of University of Miami Health systems, who's leading the surgery to remove the tumor next month, told Daily Mail Online: "In addition to improving his vision, airways and ability to eat, we hope the surgery will give the boy back his identity."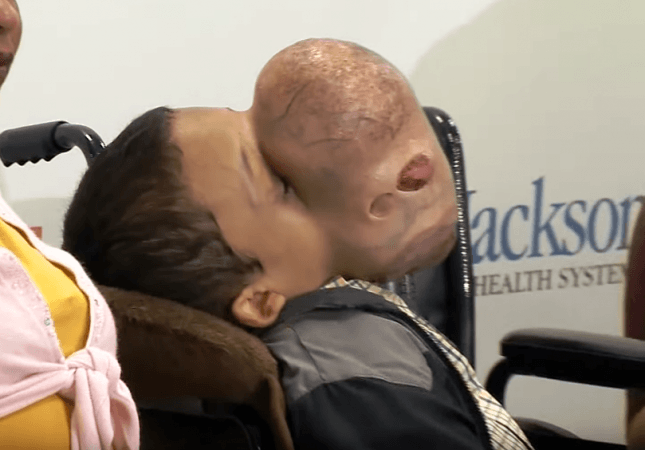 Emanuel and his family have flown from Cuba to Miami for the life-saving surgery. So far, his condition has only been labeled as a genetic deformation without any concrete reason behind what causes the anomaly.
The condition has left Emanuel able to breathe only through his mouth, and also extremely malnourished as chewing is extremely difficult for him. His vision is blocked, allowing him only able to look up and sideways. Also fractures and curvature to his arm and leg caused by his condition, leave him unable to walk.
His symptoms first started at the age of two when his leg and arm began curving in outward. The doctors in Cuba were able to control his symptoms until the age of nine, but once his skull began to swell and deform, it was beyond their hands.

Luckily for the family, Dr Marx and his team are donating their time and skill to Emanuel free of charge.
The surgery will be performed by a team of four doctors, who will spend 10-14 hours to completely remove the mass, while running the two big risks of bleeding and compromising Emanuel's airways.
However, there will be certain follow up surgeries to reconstruct Emanuel's face for which the Jackson Heath Foundation is fundraising.
Emanuel's mother Melvis Vizcaino said: "It is truly a miracle of God that his pictures ended in the hands of Dr. Marx. I am so grateful he was willing to take the case."