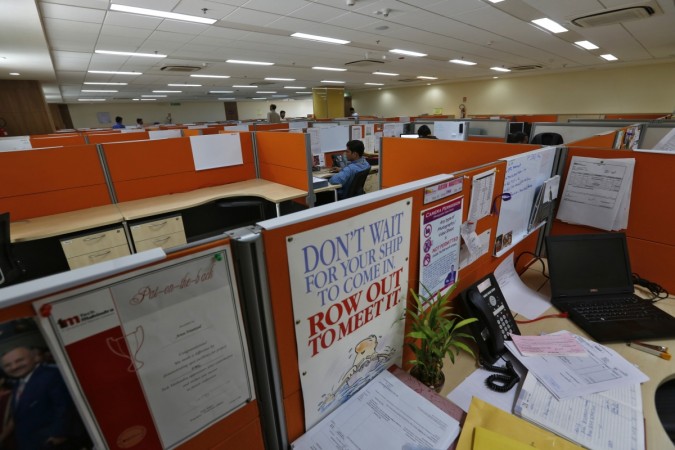 Shares of IT software services company Tech Mahindra were trading with marginal gains on Monday morning ahead of the announcement of June quarter (Q1) results. The stock was up 0.58 percent at Rs 382 at around 10.55 am while the benchmark index Sensex was trading 119 points higher at 32,429 led by Tata Steel, L&T, Kotak Mahindra Bank and ONGC.
In a preview, brokerage Angel Broking said that Tech Mahindra is likely to post modest Q1 results. "The sales are expected to come in at $1,127 million v/s $1,131 million, a QoQ dip of 0.4 percent.On operating front, the EBIT (operating) margin is expected to come in at 8.6 percent v/s 8.2 percent in 4QFY2017, a QoQ expansion of 44bps, mainly on the back of base effect. Consequently, the PAT is expected to come in at Rs 624 crore v/s Rs 588 crore in 4QFY2017, a QoQ growth of 6.2 percent," it said in a note on Monday.
Other IT stocks such as Wipro, Infosys, TCS and HCL Technologies were trading with minor gains or losses.
Tata Steel was up 3.25 percent at Rs 569, L&T was trading 2.67 percent higher at Rs 1,190 and ONGC was up 2.13 percent.
Other companies that are scheduled to declare their June quarter results include Siemens, United Phosphorus, Shriram Transport, Bank of Maharashtra, Hexaware, Reliance Power and budget carrier IndiGo-owner Interglobe Aviation.
The July volume sales data of automobile companies will influence trading in the next few days, apart from PMI statistics for services and manufacturing sectors.
In related news, the initial public offerings (IPOs) of public sector firm Cochin Shipyard and private security and facility management services firm Security and Intelligence Services (India) Ltd. are hitting the markets this week.
While the Centre is offloading 10 percent stake in Cochin Shipyard, the company is also issuing 2.27 crore fresh shares, taking the total offering to 3.40 crore shares. The shares are being offered in the price band of Rs 424-432 and the issue opens on Tuesday (August 1) and closes on Thursday. The retail investors and employees will be offered a discount of Rs 21 per share.
Also read: Cochin Shipyard floats Rs 600-crore IPO despite grim shipbuilding prospects
"The proceeds from the fresh issue will be used to fund the capex requirements for setting up of Dry Dock (Rs443 crore), international ship repair facility – ISRF (Rs 230 crore) and general corporate purposes," brokerage Centrum Broking said in a note.
Security and Intelligence Services (India) Ltd. is offering shares in the price band of Rs 805-815 per share; the issue opened on Monday (July 31) and will close on August 2. The company is raising about Rs 774-780 crore mainly to repay/pre-pay debt of around Rs 200 crore and meet the working capital requirement of about Rs 60 crore.
For the financial year ended March 2017, the company's revenues rose 19 percent YoY to Rs 4,567 crore and net profit came in at Rs 91 crore, up 20 percent, according to an update by Centrum.