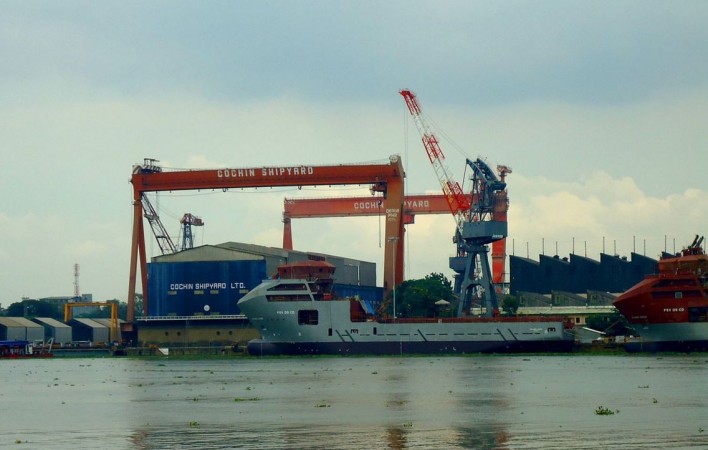 State-owned Cochin Shipyard (CSL) announced on Tuesday that it would be floating an initial public offer (IPO) to tap funds from the primary market on August 1. The country's largest public sector shipyard aims to raise about Rs 1,468 crore as part of efforts to expand and construct larger vessels as well as undertake ship repair and fabrication.
CSL will see 10 percent disinvestment by the government and 20 percent fresh issue of shares, Business Standard reported.
Post the IPO allotment, the government will hold a 75 percent share in the shipbuilder while the balance 25 percent shares will be held by the public.
Hitesh Avachat, deputy manager and group head (Shipping) at CARE Ratings, told Business Standard, "The government is trying to boost the domestic shipbuilding sector for quite some time now. It is due to this IPO that the sector has come into some limelight. Otherwise, business prospects for the shipbuilding industry continue to remain dull in the short to medium term."
The company's IPO comes at a time when the shipbuilding industry is grappling with a grim business climate.
For instance, debt-laden Pipavav Defence and Offshore Engineering, which was acquired by Anil Ambani-led Reliance Infrastructure in 2015, has been witnessing operational losses for the past two years.
ABG Shipyard's debt piled up because of a fall in freight rates and an industry slump. Its corporate debt restructuring (CDR) is among the largest loan recasts in India, second only to the Rs 13,500 crore debt reorganisation of engineering and construction firm Gammon India in July 2013, Mint reported recently.
In an interview to Business Line, Chairman and Managing Director Madhu S Nair of Cochin Shipyard had said, "By nature, shipbuilding and ship repair are cyclical and we have been through these ups and downs. CSL is not just a shipbuilding player, but an integrated shipbuilding and ship repair company, with presence across different segments such as defence and commercial. Globally, I do agree it's a bad time for the shipping industry, but for us things are steadily moving upward. I think this is the best time for the IPO."
Against the backdrop of a grim business climate, and orders for commercial vessels drying up amid oversupply, equity infusions at the right time are possibly the only rescue option for the sector.