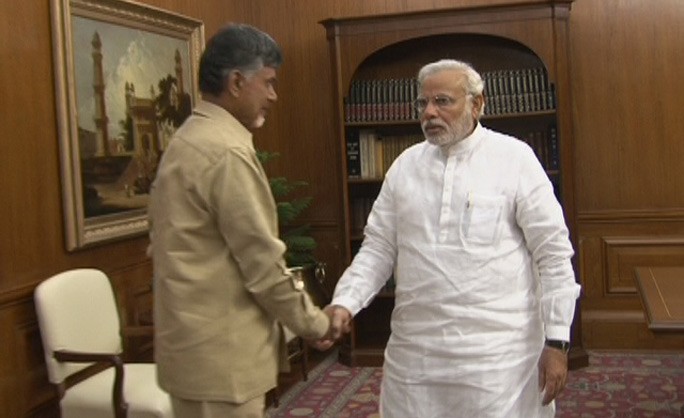 Andhra Pradesh Chief Minister N Chandrababu Naidu announced the breakup of Telugu Desam Party (TDP) and Bharatiya Janata Party (BJP) over the special status for the state and cried foul over the unavailability of Prime Minister Narendra Modi.
Naidu had been fighting for the special status since becoming the chief minister of the state. Of late, things were getting worse with some BJP leaders criticizing Naidu. Things did not seem to be getting any better, forcing him to call it quits.
Late on Wednesday, Naidu took to Twitter to announce his decision to walk out of the NDA alliance. In a series of tweets posted in English and Telugu, the AP CM said that he had been patiently waiting for a long time and that the Centre was not responding to his demands.
So far, I was patience and I went to Delhi 29 times, asking for the justice. But there was no response from the centre. The time has come for hard decisions in the interest of the state.

We have difficulties with ourselves. I tried all the ways to get the justice. But the result did not come. That is why we have decided to resign two Union Ministers now.

Union Ministers Ashok Gajpatiraju and Sujana Choudhary will resign tomorrow morning after declaring the status quo. This decision is taken with a view to intimidating the state of justice in the Union Cabinet.

The Centre has been taking one sided decisions and our patience has run out now. When the purpose of joining the union cabinet hasn't been fulfilled, it's best to resign now.

I am not angry with anyone. This decision has been taken only to benefit the people of Andhra Pradesh.

I tried reaching out to the Prime Minister to inform him about our decision. But sadly, he was unavailable.

I tried to tell the Prime Minister about the resignation of Union Ministers as a senior political leader. But he was not available.

It's not politics to do here. We sacrifice for state. I have opposed the BJP for state interests. I have made a decision now that it will not go further.

It's a crucial time. We have to stand, we have to fight, we have to get it done.
ఇప్పటి వరకు చాలా ఓపిక పట్టాము. 29 సార్లు ఢిల్లీకి వెళ్లి న్యాయంగా రావాల్సినవి అడిగాను. కానీ అటువైపు నుండి ఎటువంటి స్పందనా రాలేదు. రాష్ట్ర ప్రయోజనాల కోసం కఠిన నిర్ణయాలు తీసుకునే సమయం వచ్చింది.

— N Chandrababu Naidu (@ncbn) March 7, 2018
మనకుండే ఇబ్బందులు మనకున్నాయి. నష్టపోతామనే ఎన్ని విధాల ప్రయత్నం చేయాలో అన్ని విధాలా ప్రయత్నం చేశాను. కానీ ఫలితం రాలేదు. అందుకే ఇప్పుడు ఇద్దరు కేంద్ర మంత్రులు రాజీనామా చేయాలని నిర్ణయం తీసుకున్నాం.

— N Chandrababu Naidu (@ncbn) March 7, 2018
ప్రత్యేక హోదా సాధ్యం కాదని తేల్చి చెప్పడంతో కేంద్ర మంత్రులు అశోక్‌గజపతిరాజు, సుజనాచౌదరి రేపు ఉదయం రాజీనామా చేయాలని నిర్ణయం తీసుకున్నాం. కేంద్ర కేబినె‌ట్‌లో ఉన్నప్పటికీ రాష్ట్రానికి న్యాయం జరగడంలేదనే ఉద్దేశంతోనే చర్చించి ఈ నిర్ణయానికి వచ్చాం.

— N Chandrababu Naidu (@ncbn) March 7, 2018
The Centre has been taking one sided decisions and our patience has run out now. When the purpose of joining the union cabinet hasn't been fulfilled, it's best to resign now.

— N Chandrababu Naidu (@ncbn) March 7, 2018
I am not angry with anyone. This decision has been taken only to benefit the people of Andhra Pradesh.

— N Chandrababu Naidu (@ncbn) March 7, 2018
I tried reaching out to the Prime Minister to inform him about our decision. But sadly, he was unavailable.

— N Chandrababu Naidu (@ncbn) March 7, 2018
బాధ్యాతాయుతమైన సీనియర్ రాజకీయ నాయకుడిగా కేంద్ర మంత్రుల రాజీనామా నిర్ణయం గురించి ప్రధానికి చెప్పాలని ప్రయత్నించాను. కానీ ఆయన అందుబాటులోకి రాలేదు.

— N Chandrababu Naidu (@ncbn) March 7, 2018
ఇక్కడ చేయాల్సింది రాజకీయాలు కాదు. రాష్ట్ర ప్రయోజనాల కోసం త్యాగాలు చేయాలి. రాష్ట్ర ప్రయోజనాల కోసమే బీజేపిని వ్యతిరేకించాను. ఈ నిర్ణయం తీసుకోకుంటే ఇంకా నష్టం జరుగుతుందనే ఇప్పుడు ఇలాంటి నిర్ణయం తీసుకున్నాను.

— N Chandrababu Naidu (@ncbn) March 7, 2018
It's a crucial time.
We have to stand, we have to fight, we have to get it done.

— N Chandrababu Naidu (@ncbn) March 7, 2018