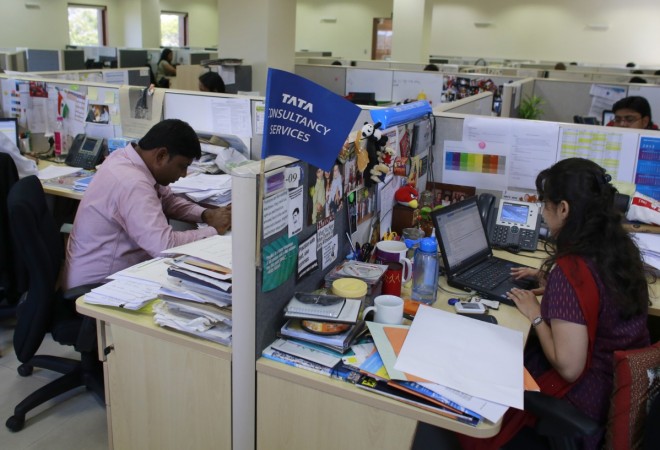 Tata Consultancy Services (TCS) reported a 64.4 percent rise in net profit and 17.5 percent growth in revenues for the fourth quarter ended March 2016 on year-on-year (YoY) basis. The operating margin stood at 26.1 percent and the volume growth was 3.2 percent, the company said in a statement on Monday.
The company proposed a final dividend of Rs. 27 per share.
"Our core portfolio performed strongly in a seasonally weak 4th quarter driven by strong volumes led by growth in BFSI, retail and manufacturing sectors," said N. Chandrasekaran, CEO and MD of the company.
Fourth quarter
The Mumbai-based company's net profit for the March quarter was Rs. 6,341 crore, up 64.4 percent from Rs. 3,858 crore in the year-ago period, while revenues stood at Rs. 28,449 crore, up 17.45 percent from Rs.24,219 crore.
On a sequential basis, the growth in net profit was 3.8 percent and 4 percent in revenues.
In dollar terms, the fourth quarter revenues of TCS stood at $4.2 billion, up 7.9 percent YoY and 1.5 percent sequentially. In constant currency terms, revenues were up 2.1 percent. Net profit at $938 million marked an increase of 50.9 percent YoY and 1.3 percent sequentially.
The fourth quarter saw broad-based growth with the core portfolio performing strongly led by BFSI (3.2 percent QoQ), manufacturing (3.9 percent QoQ) and retail (2.1 percent QoQ) in constant currency terms.
Revenues from the digital space accounted for about 15.5 percent of the fourth quarter revenues.
FY 2016-17
The company's rupee revenues crossed the 1-trillion mark for the first time and stood at Rs. 108,646 crore, up 14.8 percent YoY, while net profit rose 23.2 percent to Rs. 24,215 crore.
In dollar terms, net profit stood at $3.69 billion, up 14.8 percent YoY, while operating profit increased by 17.6 percent YoY to $4.38 billion.
Annual revenues of India's largest IT software services company by sales rose 7.1 percent YoY and 11.9 percent in constant currency terms to $16.54 billion.
For FY16, growth was led by BFSI (14.8 percent YoY), life sciences (20.6 percent YoY), travel and hospitality (17 percent YoY) and manufacturing (15 percent YoY) in constant currency terms, TCS said in the statement.
Dividend
TCS proposed a final dividend of Rs. 27 per share, taking the total dividend to Rs. 43.5 per share for 2015-16.
Employee addition
The company added 9,152 employees on a net basis during the quarter to take the total headcount to 353,843 as on March 31, 2016. The company said that 33.8 percent of its employees are women.
The attrition rate for IT services was 14.7 percent and overall at 15.5 percent on an LTM basis.
$940 million fine is "contingent liability"
In its regulatory filing to the BSE on Monday, TCS said that the $940 million fine awarded by a US court in the Epic Systems trade secret violation case will be treated as "contingent liability".
"On the basis of legal opinion and legal precedence, the company expects to defend itself against the claim and believes that the claim will not sustain. The verdict does not have any impact on the financial results as this has been considered contingent liability", TCS said in the filing.
Share price
The TCS stock closed at Rs. 2,522.40 on the BSE, down 0.03 percent. The results were announced after trading hours.