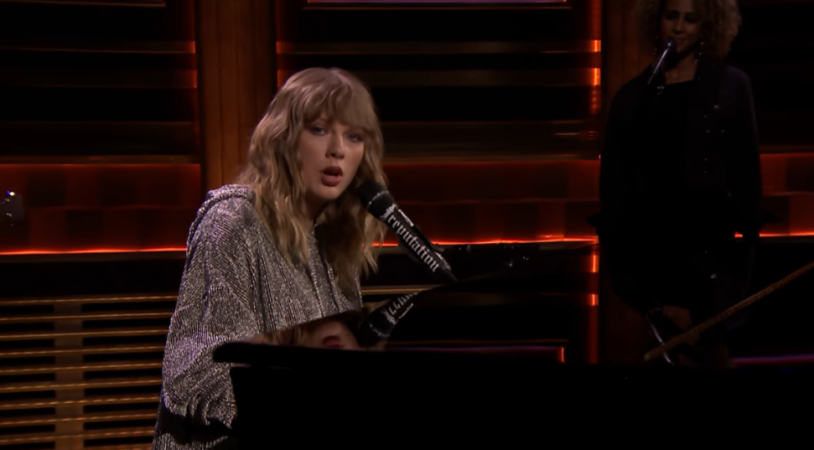 Taylor Swift falls into the category of artists who ace at surprising their fans. But recently, Taylor appeared on The Tonight Show with Jimmy Fallon and did something so extraordinary, that took the entire crew and audience by surprise, including the host himself.
On Monday night, the 27-year-old country-turned-pop star visited Jimmy Fallon's talk show upon a last minute notice and performed her latest ballad, New Year's Day, from her latest album, Reputation.
Also read: Taylor Swift's new album is finally here: A list of which song could be about whom
While the song itself is about the value of memories, what made it all the more apt was that earlier last week, Jimmy's mother, Gloria, passed away unexpectedly.
The 43-year-old comedian slash host had taken time off the show and the Monday episode was the first one ever since he returned. But what's more shocking is that, certain lyrical references from the song were so in sync with Jimmy's relationship with his mother, that it moved everyone to tears.
In a 15-minute monologue, Jimmy spoke about his late mother, paying her a tribute and proceeding to share a little anecdote from the past.
"When we were little, my mom would walk us to this store, me and my sister, and we would hold hands, she would squeeze my hand three times and say, 'I love you,' and I would squeeze back, 'I love you, too.'"
Holding back tears, he added, "And last week, I was in the hospital at her side and I grabbed her hand, and I squeezed, 'I love you,' and I just knew we were in trouble."
Following this was Taylor's performance of New Year's Day and to everybody's surprise, the song had lyrics that spoke about the same hand squeezing gesture.
Taylor's lyrics were: "You squeeze my hand three times in the back of the taxi / I can tell that it's gonna be a long road / I'll be there if you're the toast of the town, babe / Or if you strike out and you're crawling home"
And as the Tonight Show producer Mike DiCenzo wrote in a thread of tweets, it took almost everybody by surprise and led them to tears as none of this was pre-planned.
A few words (i.e. a thread) about tonight's show. It was our first show back after Jimmy's mom passed away...

— Mike DiCenzo (@mikedicenzo) November 14, 2017
It was a really tough day for our whole staff. A lot of us knew his mom Gloria, and she was the best. The best. She loved the show, she loved all of us, and most of all, she loved Jimmy.

— Mike DiCenzo (@mikedicenzo) November 14, 2017
They talked on the phone every day. As Jimmy said, she was his biggest fan.

— Mike DiCenzo (@mikedicenzo) November 14, 2017
I'm sure today was especially tough for Jimmy. The fact that he came out, stood there, and did a normal monologue for the crowd is a testament to how strong he is.

— Mike DiCenzo (@mikedicenzo) November 14, 2017
But at the desk, you could hear his voice break when talking about our musical guest Taylor Swift, and that's because he knew what he was about to say...

— Mike DiCenzo (@mikedicenzo) November 14, 2017
Jimmy's words about his mom were beautiful. "Mom, I'll never stop trying to make you laugh. I love you." I was crying. We all were.

— Mike DiCenzo (@mikedicenzo) November 14, 2017
The story about his mom squeezing his hand 3 times to say "I love you" when he was a kid, and then him squeezing her hand in the hospital - he hadn't told any of us that story... More on that in a second.

— Mike DiCenzo (@mikedicenzo) November 14, 2017
First, a quick word about Taylor Swift. She was not scheduled to do our show today. But we wanted something special for this first show back, so we asked her on a complete whim, since she had been in town doing SNL. She said yes with zero hesitation.

— Mike DiCenzo (@mikedicenzo) November 14, 2017
She sang "New Year's Day." No one had heard it. Suddenly she sings the line, "Squeeze my hand 3 times in the back of the taxi." I nearly gasped. Tears. I think everyone in the audience started sobbing.

— Mike DiCenzo (@mikedicenzo) November 14, 2017
I could see Jimmy silhouetted at his desk dabbing his eyes with a tissue. We all lost it. It was a beautiful coincidence in a beautiful performance. "Hold on to your memories, they will hold on to you," Taylor sang.

— Mike DiCenzo (@mikedicenzo) November 14, 2017
That hug between Jimmy and Taylor after the song was 100% real emotion. Whatever you think of Taylor, she did something beautiful for Jimmy and our show today, and we're forever grateful.

— Mike DiCenzo (@mikedicenzo) November 14, 2017
One last note: our show was right on time today, but we edited out a minute to leave room for Jimmy high-fiving audience members during the end credits. It was Gloria's favorite part of the show.

— Mike DiCenzo (@mikedicenzo) November 14, 2017