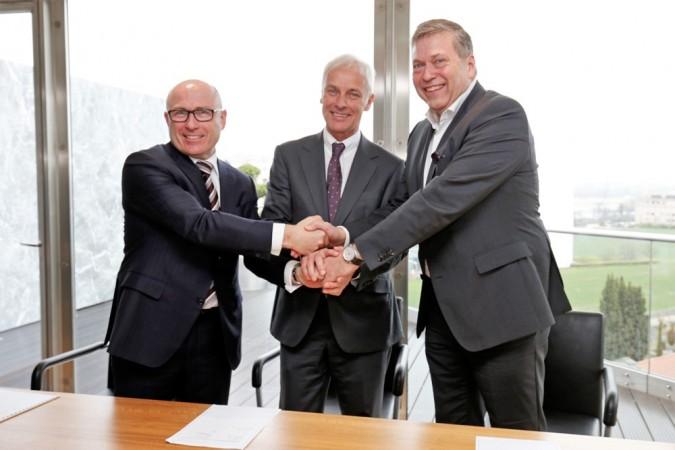 Tata Motors on Saturday announced that it is signing a Memorandum of Understanding (MoU) for a long-term partnership with Volkswagen Group and Skoda. The agreement has been signed by Guenter Butschek, CEO and MD of Tata Motors, Matthias Mueller, CEO of Volkswagen AG and Bernhard Maier, CEO of Skoda Auto.
Also read: Upcoming Skoda cars in India in 2017: From Rapid Monte Carlo Edition to Kodiaq SUV
The partnership is expected to bring significant implications for the Indian automotive industry, while it is also expected to help Volkswagen to crack small car industry around the world. Here are six facts you need to know about the alliance.
1) The alliance aims at long-term partnership for joint development projects that include development of innovative solutions for Indian and overseas market
2) Czech automobile manufacturer Skoda will be the lead of project for Volkswagen Group brands and the partnership will help Tata Motors become 'FutuReady' by embracing new technologies.
3) Both companies are reportedly looking for sharing a modular platform. Tata Motors is working on an advanced modular platform (AMP). It is a scalable platform which means it can underpin a whole range of body styles. Volkswagen may share its technical knowhow for models based on the AMP architecture.
4) The tie-up may also look into the feasibility of Tata Motors using Volkswagen's MQB A0 platform. The A0 platform is ideal for small cars. Tata Motors has plans to launch small cars in the future
5) Skoda has already said that it wants global sales to cross 1.5 million units by 2020. A major push to the target is expected from the alliance. The low cost cars from the alliance will help Skoda to venture into new territories.
6) Tata Motors' recently set up sub-brand TAMO and the British subsidiaries Jaguar and Land Rover will have no connections with the alliance reports NDTV Auto.