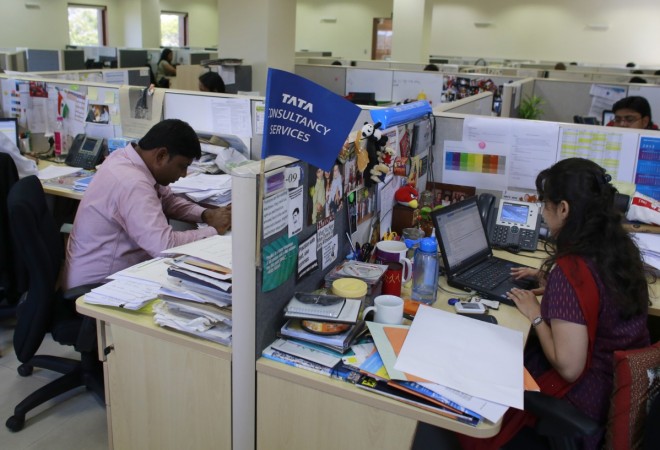 Tata Consultancy Services (TCS) shares tumbled almost 7 percent on Thursday on the Bombay Stock Exchange (BSE), a day after the company in a regulatory filing that it was witnessing "sequential loss of momentum" in its key banking, financial services and insurance (BFSI) vertical.
The TCS stock plunged to an intraday low of Rs. 2,287, down 6.53 percent from its previous close before recovering to trade at Rs. 2,307.55 at around 12:37 p.m.
TCS, India's largest software services exporter, indicated that its BFSI clients in the U. S. are being cautious and holding back on discretionary spending.
"Based on data at the end of August 2016, the company has characterized customer outlook as one marked by abundant caution, with some holding back of discretionary spending, particularly in the BFSI vertical in the US, resulting in sequential loss of momentum," the Mumbai-based IT major said in a statement to the Bombay Stock Exchange.
"The US caution clearly reiterates our thesis that TCS, with huge dependence on H1, has very little margin of safety. Even if the company posts 3.0% revenue growth in Q2FY17, it will require 1.0% CQGR to clock even 8.5% revenue growth in FY17," brokerage Edelweiss Securities Limited said in a note.
"With lack of momentum in the BFSI vertical (contributes ~40% to revenue) the chances of a strong Q2FY17 are dim and will probably drag down TCS' FY17E growth as well," it added.
Infosys, the second largest domestic IT firm by revenues, saw its shares plunge about 3 percent to an intraday low of Rs 1,025.
The BSE Information Technology index was down 2.64 percent at around 2.37 p.m. The BSE Sensex was up 97 points at 29,023. Top Sensex gainers were Bajaj Auto, Tata Steel, Sun Pharma and Hero Motocorp.