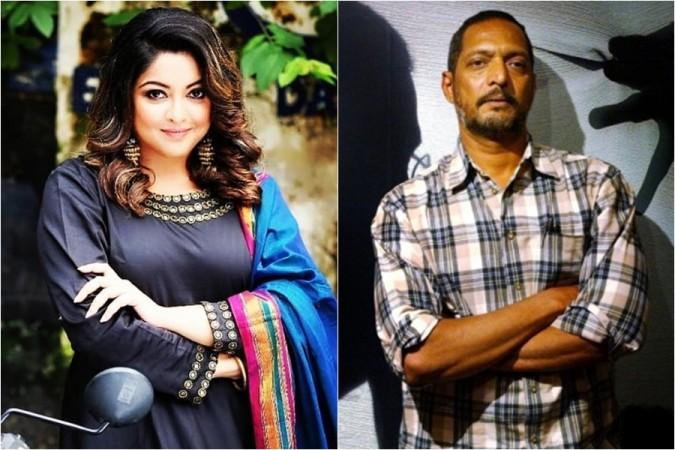 Days after alleging sexual harassment at the hands of actor Nana Patekar and filmmaker Vivek Agnihotri, Bollywood actress Tanushree Dutta has got a legal notice from both. The actress said that both Nana Patekar and Vivek Agnihotri were on a smear campaign and spreading lies and misinformation on social media and other public platforms.
In a statement to the media, the actress also alleged that she is getting violent threats by the Maharashtra Navnirman Sena (MNS), the political party led by Raj Thackeray. MNS has allegedly issued a threat if Tanushree Dutta were to be given a Wild Card entry into the reality show Bigg Boss 12, hosted by Salman Khan. She also said that two suspicious looking men tried entering her home when the police personnel posted outside were on a lunch break.
Tanushree Dutta has alleged that Nana Patekar sexually abused her and demanded lewd dance steps on the sets of the 2008 movie Horn Ok Plssss. She also accused Chocolate director Vivek Agnihotri of saying abusive things like "Kapade utaar ke naach" (Remove your clothes and dance) to her in front of the crew.
"I have been slapped with two legal notices today. One from Nana Patekar and another from Vivek Agnihotri. This is the price you pay for speaking out against harassment, humiliation and injustice in India. Both Nana's and Vivek Agnihotris teams are on a smear campaign against me by constructing outright lies and misinformation on social media platforms and other public platforms. Their supporters are coming ahead and weaving damming allegations against me even shouting at the top of their voices at press conferences," said Tanushree Dutta in a statement.
"Today while I was at home and the police personnel posted outside my home were on a lunch break two unnamed suspicious individuals tried getting into our home uninvited but were stopped just in time by security personnel in the building. Later the police came back from their break and secured the premises again. Violent threats are being issued against me by the MNS party," she added.
"I'm being threatened to be dragged into the court and legal system of India which we all know can keep a woman and her supporters as well as media silent on the pretext of "matter subjudice" but can also further be used to harass her and drain her out financially. "Tareek pe Tareek pe tareek" and the dawn of justice never arrives and her whole life goes waste awaiting justice while witnesses are intimidated, discredited or simply drained of their will to stand up," said Dutta.
"False witnesses supporting perpetrators conjured up to furthur weaken her case. Court cases can run for decades without a hope for a conclusion. At the end an empty shell remains, broken hopes, a life wasted, defeated.This is the age old saga of survivors in our nation. I walked away once from the same environment that was created for me 10 years ago.... Found God, found my healing, found my peace and a new life in United States of America. And now I stand to lose this new life too if I allow myself to get embroiled in the court system of India.And you wanted to know why the me too movement hasn't happened in India...This is why...," concluded Tanushree.
Union Minister for Women and Child Development Maneka Gandhi has come out in support of Tanushree Dutta. While maintaining that she doesn't have any specific comment on the issue yet, Maneka Gandhi said, "Harassment of any kind will not be tolerated. We were the first government to start 'I am Trolled' on social media and women who wrote to us saying they were being harassed, we took action immediately."
Maneka Gandhi pressed for a 'Me Too India' movement, akin to the Me Too Movement of the entertainment industries in Hollywood and Europe. "Now, (after) this incident, I also feel that we should start something called 'Me Too India', in which any woman who is being harassed at any point should write to us. But for the first time, the National Commission for Women (NCW) is going into every case that is complained to us, and we go in detail. We have solved several thousand cases," Maneka Gandhi said.
Meanwhile, Sattyajit Gazmer, an assistant director on the sets of Vivek Agnihotri's movie Chocolate that starred Tanushree Dutta, has denied any such incident took place on the sets. He has posted a message on Facebook in support of his director.
Watch this space for more on the Tanushree Dutta case against Nana Patekar and Vivek Agnihotri.