Amid grave allegations of sexual harassment by some of its founder members, stand-up comedy group All India Bakchod (AIB) has announced that its co-founder and chief executive officer Tanmay Bhat will be "stepping away" from the company.
It also announced that co-founder Gursimran Khamba will be on temporary leave of absence since the allegations levelled against him were of a personal nature.
AIB's Utsav Chakraborty has been accused of several women for sending them di*k pictures, and Tanmay Bhat knew about the same and spoke to the victim about it, but continued to work with Utsav. "I should've ended ties then, and I didn't, and it is my fault. I'm truly sorry. I should've acted stronge," he later admitted.
Gursimran Khamba has also been accused of harassment. "We have been closely monitoring the sequence of events on social media around the allegations against AIB and also against our co-founder and CEO, Tanmay Bhat. We cannot overlook Tanmay's role and in light of this, he will be stepping away from his association with AIB until further notice..." AIB said in a statement.
Read the full statement of AIB here: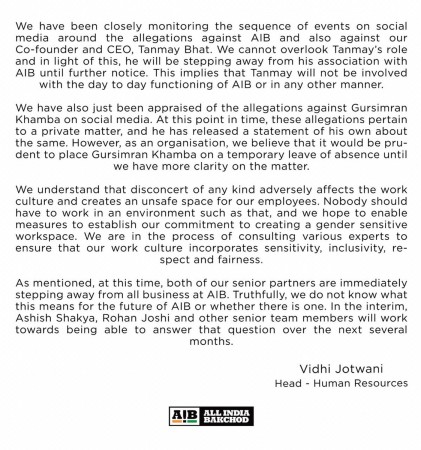 The Me Too movement has taken India by storm, a year after it began in Hollywood. After the sexual harassment allegations on Bollywood actor Nana Patekar and director Vivek Agnihotri by actress Tanushree Dutta, the sexual abuse case of director Vikas Bahl has come to light again and caused Phantom Films to shut down.
There have been separate allegations of misconduct on author Chetan Bhagat, actor Rajat Kapoor, and several senior journalists and editors.
Actress Kangana Ranaut has also spoken about Vikas Bahl's weird behaviour on the sets of their film Queen. The Me Too movement has just started in India and there is more to come.