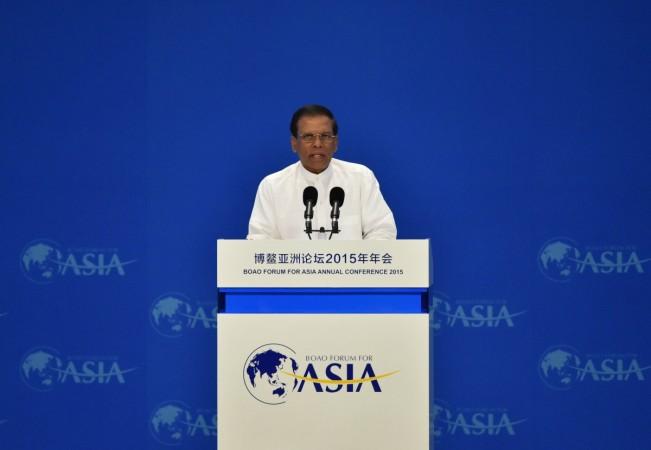 Sri Lanka's main Tamil party - Tamil National Alliance (TNA) - said that President Maithripala Sirisena has assured that he will resolve the ongoing political crisis when Parliament meets again next week even as the talks between the two sides ended without any breakthrough on Friday night.
President Sirisena had invited ousted prime minister Ranil Wickremesinghe's United National Front (UNF) and the TNA for talks Friday night amid speculation that Sirisena may opt to restore the pre-October 26 status quo.
However, the talks on Friday night ended without any breakthrough.
"President admitted that Mahinda Rajapaksa has no majority. He wants another motion to be approved in parliament to prove the issue," M Sivamohan, one of the TNA parliamentarians who attended Friday night's talks, told reporters.
The President, however, said that there are enough examples of minority governments functioning around the world, he added.
TNA leader R Sampanthan said the President assured he will resolve the issue when Parliament meets again next week. The UNF team, which met Sirisena without their leader Wickremesinghe, said that the President has promised another round of talks Sunday. "We are hopeful and we will attend the talks," said Akila Viraj Kariyawasam, the UNF general secretary.
Lanka is witnessing a political crisis since October 26 when President Sirisena sacked Wickeremesinghe and replaced him with former strongman Rajapaksa.
Sirisena later dissolved Parliament, almost 20 months before its term was to end, and ordered snap election. The Supreme Court overturned Sirisena's decision to dissolve Parliament and halted the preparations for snap polls. Both Wickremesinghe and Rajapaksa claim to be the prime ministers. Wickremesinghe says his dismissal is invalid because he still holds a majority in the 225-member Parliament.
The UNF has moved three no trust motions against Rajapaksa, who has refused to step down. Speaker Karu Jayasuriya has officially conveyed that the House does not recognise Rajapaksa as the legal prime minister until he proved his majority in the House.
Analysts say Sirisena was buying time until the island's Supreme Court could deliver its ruling on the dismissal of the parliament by him. Political parties and civil society organisations challenged his order which they claimed was unconstitutional.
The Supreme Court on November 13 issued a temporary stay order on parliament's sacking while setting the dates for its final ruling for early this month.
As many as 13 petitions have been filed.
The TNA has pledged to help restoration of the pre-October 26 status by helping Wickremesinghe to prove majority in the House.