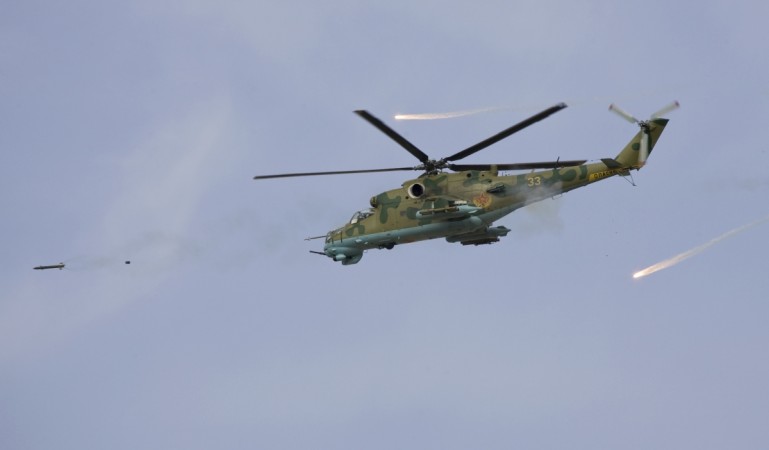 The Taliban has warned India against increasing military co-operation with the Afghanistan government in Kabul. The warning comes following reports that India might provide Kabul with lethal weaponry that might be used against them.
India is expected to host President Ashraf Ghani sometime soon, where the former is likely to pledge military aid to the war ravaged nation of Afghanistan. Afghanistan is in dire need of heavy weaponry to ward off Islamic insurgency active in several parts of its territory.
The warning came from Zabihullah Mujahid, the main spokesman for the Taliban who said: "The Islamic Emirate condemns this action with the strongest of terms. Such acts will create distrust between the people of both countries and become a reason for further deterioration of relationship."
India has detested from providing lethal military equipment to Afghanistan and was providing only non-lethal military aid that included vehicles, transport choppers, communication equipment and medical supplies. But the changing geo-politics necessitated India to act.
In December 2015, it gifted three Mi-25 attack helicopters. In April 2015, India had given three Cheetal helicopters that are being operated by Afghanistan Air Force. India also trains Afghan Armed Forces and other personnel on operations.
"We call on India to stop exporting items of killing and destruction to Afghanistan and to stop efforts of prolonging the lifespan of this corrupt regime with its military aid," Mujahid added.
The Taliban also accused Afghan Armed Forces of using the Indian attack helicopters in the destruction of Puli Alchin Bridge in Kunduz.
"Reports circulating in the media state that India will be providing military aid to the Kabul administration in form of aircraft and other equipment. Such weapons will be used to kill our people, oppress our nation and destroy our homes and public welfare structures. A good example of this is the Puli Alchin bridge in Kunduz recently destroyed by regime helicopters that were provided by the Indian government," said the spokesperson.
Meanwhile, there has been a flurry of activity between India, Afghanistan and the U.S. General John Nicholson, Commander of U.S. and NATO forces in Afghanistan was in India in August to discuss India enhancing its military co-operation with Afghanistan.
Last week, General Quadam Shah Shahim, Afghan Army chief was in India to seek an enhanced defence co-operation along with the need for military equipment, especially Mi-25 helicopters, Voice of America reported.
Pakistan's powerful intelligence agency, ISI, has been accused of covertly supporting the Taliban insurgency, something that has been alleged by officials of all the three countries. But Pakistan has rejected such allegations against it.
Following the end of the Taliban government, India committed itself to Afghanistan's reconstruction and rehabilitation by pledging to invest $2 billion. India is one of the largest donors to the war-ravaged country.
Recently, PM Narendra Modi inaugurated the new Afghan Parliament building, Afghan-India Friendship Dam in Herat province (Salma Dam), Storay Palace and many more such projects.