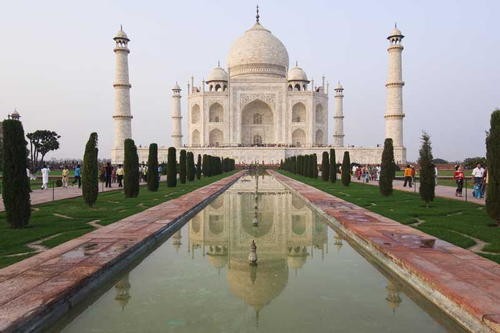 The Taj Mahal is now a Wi-Fi zone, with tourists getting 30 minutes of free Internet usage from Tuesday at one of the world's most popular tourist attractions.
Bharat Sanchar Nigam Limited (BSNL) has installed 21 wi-fi hotspots at the Taj Mahal in collaboration with the Archaeological Survey of India (ASI), as part of the Modi government's Digital India campaign.
Tourists visiting the famous monument of love can use high-speed Internet for free for 30 minutes, and will have to buy vouchers for further use.
The Wi-Fi service was launched on Tuesday by Information Technology Minister Ravi Shankar Prasad. On Monday, the minister had tweeted that 'History will meet Technology' starting Tuesday.
Friends tomorrow History will meet Technology. Taj Mahal to go Wifi from tomorrow. BSNL will provide wifi services at Taj Mahal. #WifiTaj

— Ravi Shankar Prasad (@rsprasad) June 15, 2015
Inaugurated #BSNL Wi-Fi services at the Taj Mahal Agra. #WifiTaj #IncredibleIndia #TajMahal pic.twitter.com/bHcsNaBA8x — Ravi Shankar Prasad (@rsprasad) June 16, 2015
Free Wi-Fi access will soon be provided at 25 other tourist destinations in the country, including Bodh Gaya, Fatehpur Sikri, Konark temple and Sarnath temple under the Digital India initiative.
The Varanasi ghats became a Wi-Fi zone earlier this year as part of the campaign.
The Taj Mahal, one of the seven wonders of the world, was also named among the most popular 'virtual' tourist destinations in Asia on Google Street View earlier this year.
The UNESCO Heritage site became a trending topic on Twitter in India on Tuesday, with Twitterati celebrating the new service and some even predicting what tweets from the monument will look like in the coming days.
Here are some Twitter reactions:
Wifi at Taj Mahal. Now you'll find these type of pics on snapchat. pic.twitter.com/f8dbNTNILh

— Mohammed Safwan (@iMoosabhai) June 16, 2015
Taj Mahal gets free Wi-Fi . Finally, it became a symbol of Love for me too. — Pratik (@Pratieekk) June 16, 2015
Taj Mahal can now attract more tourists by just saying 'take a selfie n post immediately' #WifiTaj

— Madhuchhanda Bose (@madhuchhanda11) June 16, 2015
Wonder what Shah Jahan had to say about Taj Mahal and WiFi connection had he been around. — Lets Nurture (@letsnurture) June 16, 2015
Now Taj Mahal goes to Waah Taj Mahal :D Free #WifiTaj

— Arpit Chaurasia (@imAChaurasia) June 16, 2015