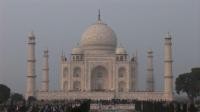 Taj Mahal is one of the seven wonders of the world and attracts tourists from across the globe. But the convenience of technology has brought Taj Mahal to people's computer screens without having to leave the comfort of their homes. Google Street View is a great initiative by the web search titan to bring the world's greatest places, captured in 360-degree view, giving a near-real experience.
Taj Mahal's breathtaking gallery in Google's Street View album has garnered equal traffic like its visitors in Agra. According to Google, Taj Mahal is one of the top ten Google Street View destinations in Asia and ranks third after Japan's Hashima Island and Mount Fuji.
"Taj Mahal has emerged as one of the most popular Asian places for global virtual travellers. The fascination with this grand, symmetrical white marble mausoleum also holds within Asia, with the Taj Mahal ranking as one of the most globally viewed destinations by people in Singapore, Australia, Korea, Philippines, Malaysia and of course, India," TechTree quoted Google as saying.
Japan topped Google's list with hot tourist destinations like Hashima islan, Mount Fuji, Biee Furano, Dotonbori Canal and more. Seven Japanese spots were there out of Google's list of top 10 Google Street View destinations, while Combodia took two spots for its Angkor Wat and Bayon Temple imagery.
In India, Google has panoramic views of more than 100 monuments but does not feature regular cities due to restricted permissions. Google added Taj Mahal imagery to its Street View just last year. Other renowned destinations include Red Fort, Qutub Minar, Agra Fort, Lavasa, Lovely Professional University, Humayun's Tomb, Shaniwar Wada, Jantar Mantar and IIT Bombay, DNA reported.
To view Taj Mahal from different angles, check out Google's wide gallery of Street View imagery and admire the beauty as if you are watching it real.