Saif Ali Khan and Kareena Kapoor Khan's son, who was on December 20, has already garnered traction on social media, thanks to his name, Taimur Ali Khan Pataudi. Twitterati started bashing the couple for naming their son after one of the cruelest rulers -- Timur Lang.
Just one hour after his birth, #TaimurAliKhanPataudi became one of the top Twitter trends followed by several memes, funny and some negative Twitter reactions. But if you think Taimur Ali Khan is a strange and weird name, then you need to check out some of the weirdest celebrity kids names of all time. Here we go:
Apple: Twitterati had a field day when Gwyneth Paltrow and Chris Martin named their daughter Apple. However, Paltrow later explained that Martin wanted to name his daughter Apple and she agreed because "apples are so sweet and they're wholesome, and it's biblical and it's just, they're so, and I just thought it sounded so lovely and ..."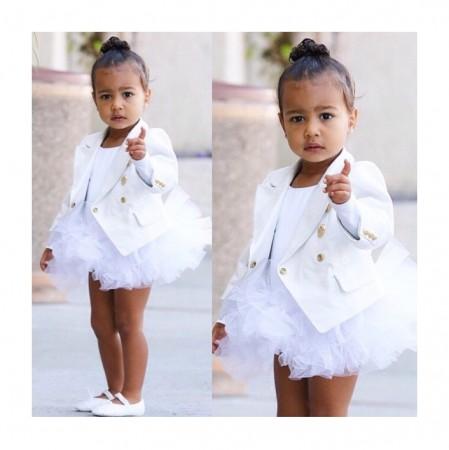 North West: Kim Kardashian and Kanye West's first daughter became the butt of the joke on Twitter when they revealed her name in 2013. Kim and Kanye's preposterous choice of name for their daughter became an internet sensation.
Royal Reign: Lil Kim named her daughter Royal Reign, but her fans were not happy with the name. Soon after she announced her daughter's name, fans took to Twitter to express their views on Lil Kim's daughter name.
Pilot Inspektor: If names would decide the career of a person, then Jason Lee's son do not have to worry about his future. Pilot Inspektor tops the list of weirdest celebrity baby names. Lee was reportedly inspired by "He's Simple, He's Dumb, He's the Pilot" song and named his son "Pilot."
Moon Unit and Diva Thin Muffin: The weirdest celebrity baby names list is incomplete without mentioning Frank Zappa's children name. Zappa bizarrely named his daughters Moon Unit and Diva Thin Muffin, and son Dweezil.
Tu Morrow: Following his tradition, actor Rob Morrow gave a unique name to his daughter and named her Tu Morrow.
Audio Science: Yes, you read it right. Shannyn Sossamon named her son Audio Science and she has a reason behind it. "We wanted a word, not a name, so my boyfriend read through the dictionary three or four times. We were going to call him Science, but thought it might get shortened to Sci, as in Simon," she explained.
Summer Rain: Christina Aguilera is known for being creative, but naming her baby Summer Rain is not what most of her fans expected. "She loves how Summer Rain Rutler flows together and thinks summer is an amazing time of the year," a source explained why she named her daughter Summer Rain Rutler.
Jermajesty: Jermaine Jackson named his son Jermajesty, and while you think that it is one of the weirdest names, then you should check out the list of names he thought before finalising on Jermajesty.
Kal-El Coppola Cage: Nicolas Cage is a big fan of comics, so he named his son Kal-El after Superman.