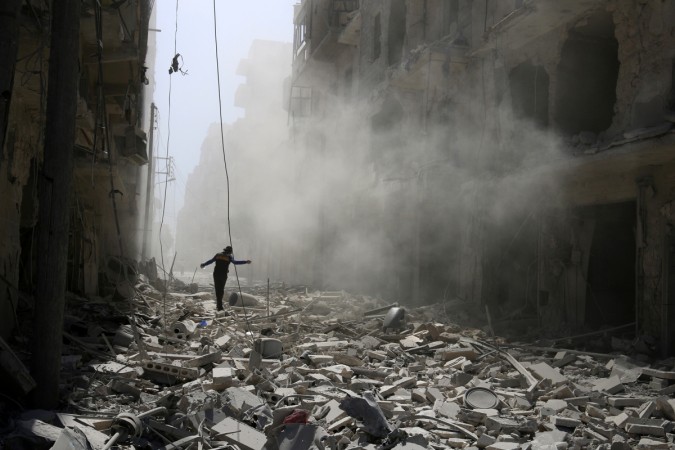 The Syrian government on Sunday refused the United Nations' offer for a truce in battle-struck Aleppo and asked the rebels in the region to withdraw. The UN had proposed a truce in Aleppo by asking the Syrian government to grant autonomy to rebel-held regions of eastern Aleppo in exchange for peace.
Rebels have engaged in months-long battle with the Syrian government and their Russian allies in eastern Aleppo and want to topple the government. Under the UN truce proposal, the Damascus government will allow eastern Aleppo to be governed by a local administration if some 900 al-Qaida-linked militants fighting with the rebels leave the city.
Rejecting the UN proposal, Syrian Foreign Minister Walid al-Moallem said that it was a matter of "national sovereignty" for the government to restore its rule in the rebel-held parts of Aleppo. The minister also said that that the government would not allow "6,000 gunmen" to take people of Aleppo hostage.
"We agreed on the need that terrorists should get out of east Aleppo to end the suffering of the civilians in the city," al-Moallem said after speaking to UN envoy Staffan de Mistura.
The UN envoy said that there was a "major disagreement" between him and the Syrian foreign minister and there was a need of an immediate "creative" solution to stop the violence in the region."We are only proposing that there should not be a radical dramatic change in the administration of Aleppo until there is a political solution," de Mistura said.
According to the Syrian Observatory for Human Rights, around 172 people have been killed since the Syrian government lifted the ceasefire and renewed its assault in the besieged region a week ago. The UN report says that around 275,000 civilians are still trapped in the region.
There were also reports of the Syrian government destroying the last remaining hospital in the devastated region, according to the Syrian American Medical Society. However, the government denied any bombings in the region recently.
Speaking during a press conference, Mistura proposed for a UN verification team to visit the affected region to calculate the damage inflicted on both the sides.
"Since we do have a difference of opinion between the Minister Muallem, saying there is a total denial of any aerial bombing of hospitals in eastern Aleppo... then perhaps we should be allowed to send a verification team on the U.N. side... to verify damage in both east and west Aleppo," the UN envoy added.