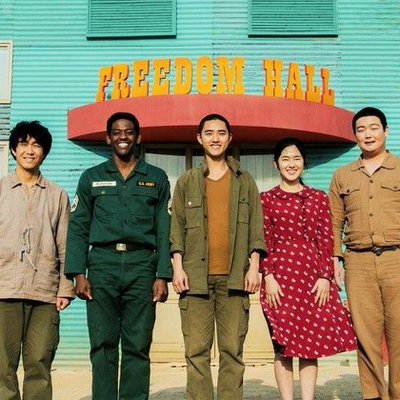 The highly anticipated multi starrer Korean film titled "Swing Kids" earlier released a poster revealing the tap dance shoes hinting at the retro theme of the movie. "Swing Kids" has unveiled its latest poster showing the members of the chaotic dance troop. The cast includes EXO's D.O., Jared Grimes, Park Hye Soo, Oh Sung Je and Kim Min Ho.
The latest poster is revealed to be colourful and filled with a retro vibe. The poster also depicts all the five troop members wearing tap dance shoes and beaming with bright smiles. The troop is seen standing in front of Freedom Hall.
"Swing Kids" revolves around Roh Ki Soo a North Korean prisoner of war and his new interest in tap dancing along with Chinese prisoners of war, held captive at the Geoje Prison Camp during the Korean War in 1951. The US military sergeant formed a tap dance troupe comprising of the prisoners and encourages the prisoners to channelize their interest on dancing.
Boy band fame EXO's D.O., also known as Do Kyung Soo plays the role of Roh Ki Soo, a North Korean who falls in love with tap dancing. The movie will also feature Park Hye Soo who will essay the role of Yang Pan Rae. EXO's D.O reveals his tap dancing ability and acting skills in the movie. The films are said to show D.O. in different shades as a rebellious soldier and gradually mellowing down to a tap dancer.
The film is directed by Kang Hyeong Cheol, who has given many hits like the 2008 film "Scandal Makers" and 2011 film "Sunny" which became box-office hits.
The trailer of the movie has garnered enough interest in the upcoming movie. "Swing Kids" is set to premiere in theatres on December 19th.