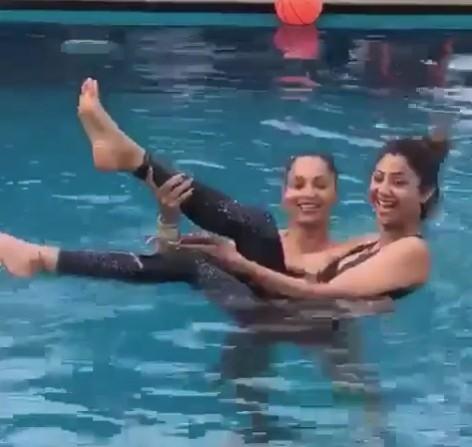 Bipasha Basu and Shilpa Shetty are having a gala time in Goa. The two actresses have been sharing a number of pictures and videos from their fun moments, and one particular video got special attention.
Shilpa shared a video on Instagram that shows her and Bipasha enjoying an underwater session in a swimming pool. While the Bong diva wore a swimsuit, Shilpa sported tight pants as she wanted to practice water yoga. However, Bipasha took this opportunity to "expose" her friend.
"In a "TIGHT" spot trying to do water Yoga but shunned for my tights by bikini hottie @bipashabasu [sic]," Shilpa captioned the video.
Bipasha shared a story of the same video, and added texts saying, "@theshilpashetty decided to swim in her tights and I decided to expose her #girlsjustwannahavefun [sic]."
Well, the video is actually funny because of the way Bipasha lifts Shilpa's legs out of the water to show her tight pants.
The two actresses along with their husbands are in Goa to celebrate the birthday of film-maker Siddharth Anand. All of them are staying at the same resort, and their social media posts suggest that they are having some wonderful time.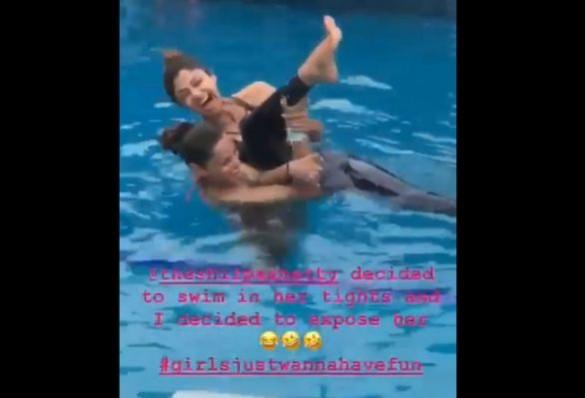 Some time ago, Bipasha was in news as there were rumours that she was pregnant. The rumours had started after a video of Bipasha sporting a loose dress made many feel that she was hiding her baby bump.
However, the 39-year-old actress soon clarified, expressing annoyance at the basless rumours.
"This is ridiculous; it's a sad thing for women. I know that having a baby is a wonderful feeling, but there's a lot more to a woman. Just because you're married, you don't have to have a baby," she had said at an event.
"Every celebrity is an individual, so they should stand up for themselves. Most of the times, rumors don't bother me and when they do, I take them on, in a straightforward way," Bipasha had added.