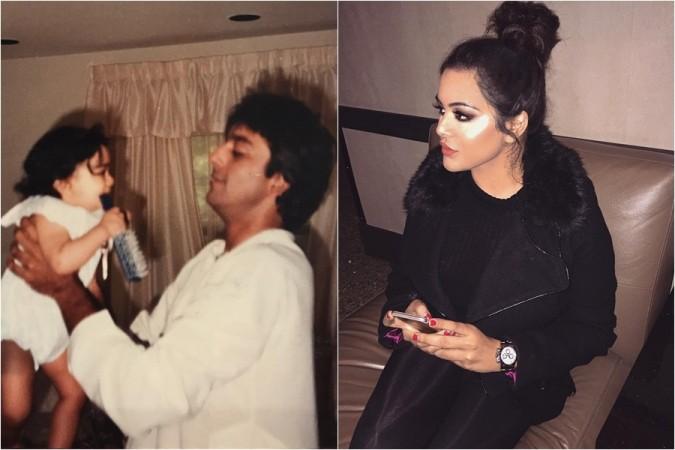 Many Sanjay Dutt fans were disappointed with the fact there was not a single mention of Dutt's first wife Richa Sharma and daughter Trishala in the biographical movie, Sanju. There were numerous reports that Trishala was quite upset with the Rajkumar Hirani-directorial and had maintained a stoic silence over the issue ever since it hit the theatres on June 29.
But now, the Baba's baby, as she likes to call herself, has opened up about the relationship with her father and how it was living and growing up without her parents.
Trishala tried "ask me a question" on Instagram and interacted with her followers on the platform. When a fan asked her how she felt being the daughter of Sanjay Dutt, she replied:
Honestly it feels normal. He's like any other father. When I'm with him it feels like I'm with my dad. It doesn't feel any different than what you probably feel with your father. I can't explain it but it's... normal."
The 29-year-old has been living with her aunt Enna Sharma and grandparents ever since her mother's death in 1996 due to a brain tumor. Trishala is now a permanent resident of New York. She is also the CEO of Sanjay Dutt Productions Pvt. Ltd and is the founder of DreamTresses Hair Extensions in New York.
When a fan asked Trishala about living without her parents, she replied:
Ummm... It's fine I guess. I never lived with them to begin with (I did but I was so young I don't remember much) so I can't really answer how it feels living without them."
Trishala also revealed some personal details about herself while replying to a fan who asked is she more like her father or her mother. The 29-year-old said her attitude and temper is like her dad while she gets her kindness, gentleness, and loving nature from her mom, adding that her giving side and style is from both her parents.
Many would think that Sanjay Dutt might be strict about his daughter's dating life, but he is not. However, Trisha said that she often gets told by her dad and her grandparents, "DO NOT bring home trash."
Trishala Dutt is already an internet sensation and often skips the heartbeat of many with her sizzling posts on Instagram. She recently took social media by storm with a throwback picture of her posing in a bikini; netizens could not stop drooling over her curves.
Her fans now want to see her step into Bollywood but she has once again cleared the air saying that acting is definitely not on her mind.