External Affairs Minister Sushma Swaraj on Monday raised the Rohingya issue in Bangladesh and said that India is "deeply concerned" about the spate of violence in Myanmar's Rakhine state, and added that normalcy in the region could only be restored with the return of "displaced persons."
Bangladesh is facing a refugee crisis, where the figure of Rohingya refugees has more than doubled than what was calculated weeks earlier -- 6 lakh -- when their sudden exodus from Rakhine began late August. Dhaka has also sought assistance from India to de-escalate the crisis of the rising number of refugees in the country.
Rohingyas are stateless Indo-Aryan people from Rakhine state in Myanmar and are categorised as one of the most persecuted minorities in the world. Around 40,000 Rohingyas have also settled in India. Ever since the latest flare-up of violence against the community in Myanmar this year, over 4 lakh Rohingyas have fled the state, pouring into nearby countries like Bangladesh seeking refuge.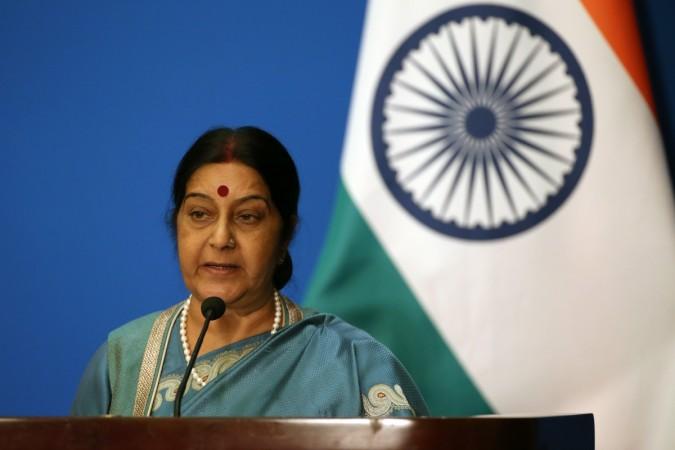 "India is deeply concerned at the spate of violence in Myanmar's Rakhine State," Swaraj made the statement after she and the Bangladesh Foreign Minister Abul Hassan Mahmood Ali co-chaired the 4th meeting of the India-Bangladesh Joint Consultative Commission in Dhaka.
Swaraj, however, refrained from using the word "Rohingya" and said, "we have urged that the situation be handled with restraint, keeping in mind the welfare of the population".
The External Affairs Minister is currently on a two-day visit to Bangladesh at the invitation of the Foreign Minister.
"It is clear that normalcy will only be restored with the return of the displaced persons to Rakhine state. The only long term solution to the situation in Rakhine State is rapid socio-economic and infrastructure development that would have a positive impact on all the communities living in the State," Swaraj said, according to PTI reports.
While the Bangladesh minister Alis said that Dhaka was "happy to be reassured that India would continue to support the humanitarian cause related to Rohingyas in Bangladesh. We further urged India to contribute towards exerting sustained pressure on Myanmar to find a peaceful solution to the including sustainable return of all Rohingyas to their motherland."
India and Bangladesh also discussed on common challenges faced by the countries, including terrorism and how to resolve to fight the scourge together.