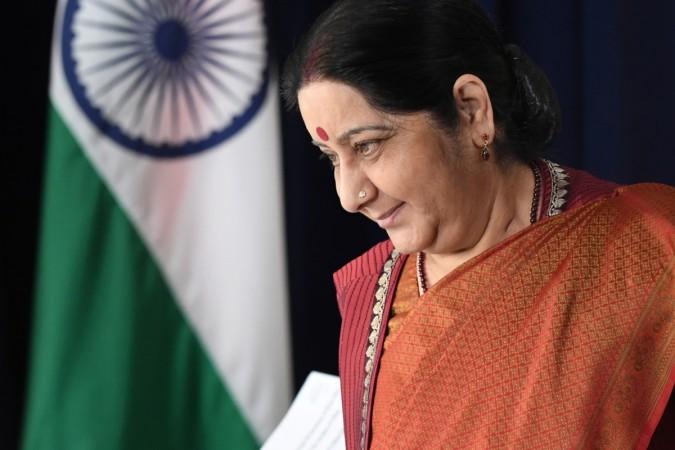 External Affairs Minister Sushma Swaraj has been facing the wrath of social media ever since the passport row of an interfaith couple from Lucknow, Uttar Pradesh, came to light. Now, Union Home Minister Rajnath Singh has expressed his sympathy for Swaraj.
"I called her soon after she first tweeted last week about the abuse she was facing. When we met, I also asked her what this was all about. I expressed my sympathy," Singh was quoted as saying by The Print.
Several other politicos have also come to Swaraj's aid, including former Jammu and Kashmir chief ministers Mehbooba Mufti and Omar Abdullah. Even Congress condemned the trolls abusing Swaraj.
On Sunday, her husband and former Governor of Mizoram, Swaraj Kaushal, gave a deeply emotional response to the trolls targetting her.
"Your words have given us unbearable pain. Just to share with you, my mother died of cancer in 1993. Sushma was an MP and a former Education Minister. She lived in the hospital for a year. She refused to engage a medical attendant and attended on my dying mother personally," Kaushal tweeted.

"Such was her devotion to the family. As per my father's wish, she lit my father's pyre. We adore her. Please do not use such words for her. We are first generation in law and politics. We pray for nothing more than her life. Pls convey my profound regards to your wife," he added.
What was the passport row all about?
It all started two weeks ago when a Passport Seva Kendra official named Vikas Mishra in Lucknow was transferred after an allegation involving an inter-faith couple caused an uproar. The couple, Mohammad Anas Siddiqui and Tanvi Seth, alleged that the officer humiliated them during their passport application process.
The couple had reportedly claimed that Mishra had asked Siddiqui to convert to Hinduism and enquired Seth over her decision to marry a Muslim man, reports Press Trust of India.
"I was told my passport cannot be issued because I have married a Muslim and did not change my surname. I asked what I should do now and I was told to change my surname in all documents," the wife was quoted as saying by PTI.
"The said official while interviewing me spoke very loudly and in a very humiliating manner in view of a lot of people," she added.
Following this, MEA transferred and served show cause notice to Mishra on June 19. Many social media users were unhappy about his transfer and called it "politics of appeasement" and "capitulation to minorities," reports TOI.