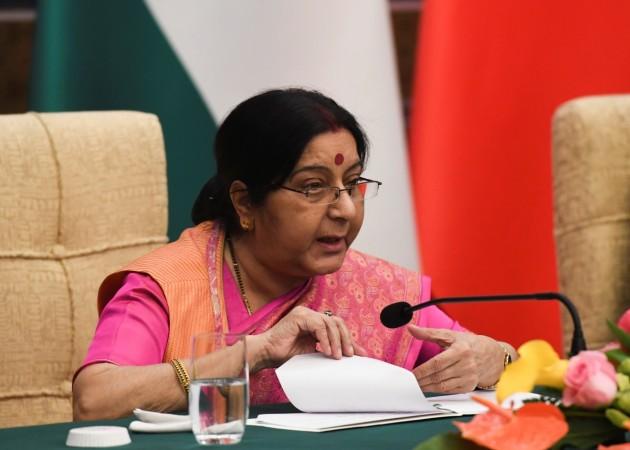 Congress offered its support to External Affairs Minister Sushma Swaraj in a rare instance of bipartisanship in Indian politics. The Bharatiya Janata Party leader was caught in the midst of heinous trolls who targeted her over an incident involving a passport row of an interfaith couple in Lucknow, Uttar Pradesh.
Swaraj, who is known to hit back at her trolls on social media, decided to up the ante this time by liking the haters' comments.
She tweeted: "I was out of India from 17th to 23rd June 2018. I do not know what happened in my absence. However, I am honoured with some tweets. I am sharing them with you. So I have liked them."
Swaraj, who more often than not, can handle her trolls single-handedly, found a new support in Congress. The grand old party came to her aid as the official twitter handle of Congress said:
"No matter the situation or reason, nothing calls for threats of violence, disrespect & abuse. @SushmaSwaraj ji, we applaud your decision to call out the heinous trolls of your own party."
Why are trolls targeting Sushma Swaraj?

It all started last week when a Passport Seva Kendra official named Vikas Mishra in Lucknow was transferred after an allegation involving an inter-faith couple caused an uproar. The couple, Mohammad Anas Siddiqui and Tanvi Seth, had alleged that the officer humiliated them during the passport application process.
The couple had reportedly claimed that Mishra had asked Siddiqui to convert to Hinduism and enquired Seth over her decision to marry a Muslim man, reports Press Trust of India.
"I was told my passport cannot be issued because I have married a Muslim and did not change my surname. I asked what I should do now and I was told to change my surname in all documents," the wife was quoted as saying by PTI.
"The said official while interviewing me spoke very loudly and in a very humiliating manner in view of a lot of people," she added.
Following this, MEA transferred and served show cause notice to Mishra on June 19. Many social media users were unhappy about his transfer and called it "politics of appeasement" and "capitulation to minorities," reports TOI.