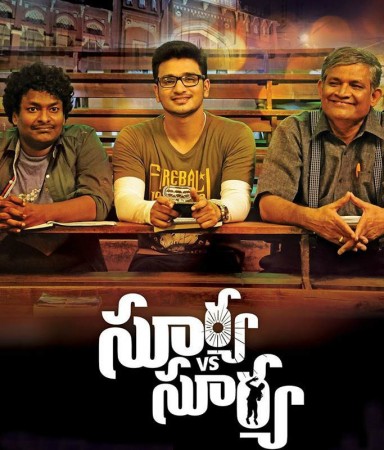 Telugu movie "Surya vs Surya", which hit the screens on 5 March, has received a brilliant opening at the worldwide box office. It is likely to become the biggest opener for Nikhil Siddhartha.
Nikhil Siddhartha's last two releases "Swamy Ra Ra" and "Karthikeya" were experimental movies and they have yielded good results at the ticket counters. His new film "Surya vs Surya", which also deals with an interesting subject, has been creating ripples in the media, ever since it went on floor. On several occasions, the film unit has claimed that it would be a hat-trick success for the actor.
The promos of "Surya vs Surya" have created a lot of curiosity among viewers before its release. The makers, who have adapted unique publicity strategies, have done massive promotion for the film. In addition, the Censor Board awarded it a 'U' certificate and described it as clean family entertainer. These factors helped the film to register over 50% advance booking for its opening day.
Trade experts had predicted that "Surya vs Surya" would start with a bang. The movie released in nearly 500 cinema halls across the globe and as expected, it has garnered massive response. The film has registered an average of 85% occupancy in both single screens and multiplexes in the morning shows. It ran to packed houses in many areas of Telangana and Andhra Pradesh.
The business of "Surya vs Surya" slightly improved in the afternoon shows. It has got positive response from the movie buffs and the word-of-mouth is expected to play its magic at the ticket counters in the later shows. As per early trends, the movie will do a record-breaking collection at the worldwide box office on its opening day.
Nikhil Siddhartha is all thrilled over the positive response for "Surya vs Surya" that he has been getting from the viewers since the first show began. The actor tweeted, "Getting calls nd wishes nd soo many reports abt Surya Vs Surya... Waiting waiting. Waitinggg.... _/_ jai ganesha.. jai Karthikeya."
Nikhil Siddhartha thanked his the film-goers for encouraging him by watching "Surya Vs Surya".
"I wanna thank everyone of uuu..cos even On a working day theatres like Devi nd Sri Ramulu have registered Housefull crowds _/_ SuryaVsSurya. SURYA VS SURYA on top in BookMyShow with 93% liking.... Biggestt Thanks is all that i cAn say to all of uu..." he tweeted.