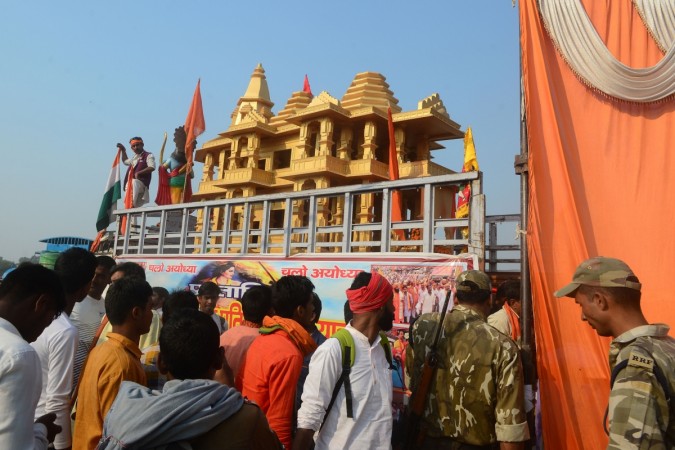 Setting a deadline for the parties involved in the Ram Janmabhoomi-Babri Masjid dispute case, the Supreme Court on Wednesday, September 18, asked all stakeholders to complete their final arguments by October 18.
All petitioners were asked to submit a time schedule that is required for presenting their arguments in the Ayodhya land dispute case, following which CJI Gogoi said that the hearings must be completed by the given time.
On the 26th day of the day-to-day hearings, all petitioners submitted a time schedule for presenting their arguments in the Ayodhya land dispute case.
The apex court five-judge Constitution Bench headed by Chief Justice of India (CJI) Ranjan Gogoi and Justices SA Bobde, DY Chandrachud, Ashok Bhushan and Abdul Nazeer also said that the petitioners were free to settle the temple-mosque dispute through mediation as well.
"If parties are desirous of settling the matter through mediation, they can go ahead," the top court stated. The court was referring to a letter submitted by the Justice FM Kalifulla-led three-member mediation panel that sought the court's nod to resume talks in the Ayodhya land dispute case.
"Let us make a joint effort to conclude the same by October 18. If the need arises, we are ready to sit on Saturdays and some extra hours on weekdays to complete it," said CJI Ranjan Gogoi who retires on November 17.
The top court made it clear that the daily hearings will continue in the case and the proceedings will remain confidential.
The Ayodhya dispute
The decades-old Ram Janmabhoomi dispute over the 2.77 acres of land in Ayodhya where a 16th Century mosque, said to be built by Mughal emperor Babur stood, has been on for nearly six decades. Hindu groups believed the mosque was built on the ruins of a temple that marked the birthplace of Lord Ram. The matter flared up after Hindu activists razed the mosque on December 6, 1992. More than 2,000 people died in the riots that followed.