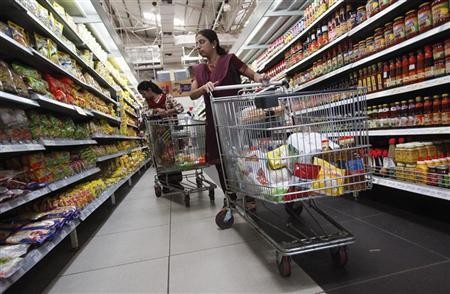 In what could come as a big relief to the Centre after being dogged by several corruption charges and scams, the Supreme Court on Wednesday cleared the government's proposal to allow 51 percent foreign direct investment (FDI) in the multi-brand retail sector.
A three-judge bench comprising of Justices R M Lodha, Madan B Lokur and Kurian Joseph dismissed a Public Interest Litigation (PIL) challenging the notification on the FDI in retail sector saying that the "consumer is king and if that is the philosophy working behind the policy then what is wrong in it."
The bench said that the policy will throw out the middleman which is believed would benefit farmers.
"The policy is to free the economy from the middleman. Middleman is sucking our economy. These are suckers to be thrown out for direct benefit of consumers. If that is the objective of the policy what is wrong with it. The middleman is a curse to Indian economy," said the court.
"This court does not interfere in the policy matter unless the policy is unconstitutional, contrary to statutory provisions or arbitrary or irrational or there is total abuse of power. The impugned policy cannot be said to suffer from any of the vires."
The apex court also dismissed the PIL filed by advocate ML Sharma arguing that the government has no authority to formulate FDI policy and that there is no challenge to the amendments in Foreign Exchange Management(Transfer or issue of security by a person resident outside India) Regulations, 2000.
The government's policy of FDI in multi-brand retail was debated in both houses of Parliament in the past after the cabinet approved it. The motion moved by the Bharatiya Janata Party (BJP) was defeated after both houses voted in favour of the government.